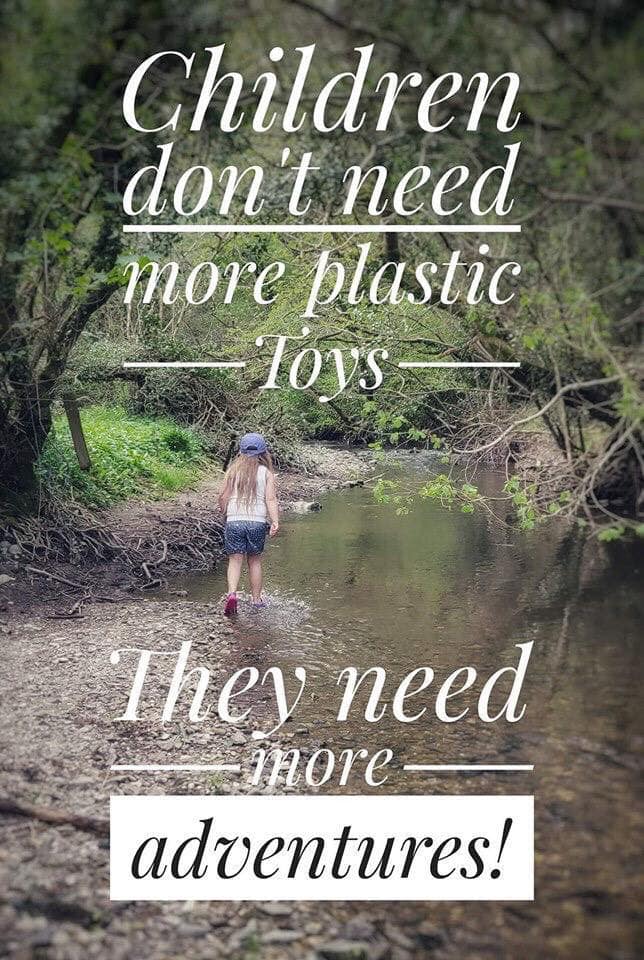 I liked a post on Facebook which said 'Kids don't need more plastic toys, they need new experiences.' How true, I thought and gave it the big thumbs up. I may even have shared it. 'My children have plenty of new experiences,' I even have thought to myself. 'Here they are in Mallorca, in a nice (if extremely rustic resort where a lot of things are broken but still) but there are pools and there is sunshine and there are little horses to stroke.'
But you've guessed it. My kids, despite all my attempts at indoctrination, still wanted more plastic shite, but they know better than to ask me to buy it for them. Here's a tale from the holiday to illustrate my point.
Two weeks ago, I took the bus into the city from our resort to lose myself in the cobbled streets by the cathedral and sit in a cafe and read my book in peace. As I attempted to calm my VERY sun-kissed cheeks with my new Tropic mineral foundation, I issued LSB with instructions.
'Reapply sun-cream after the pool. Make sure they drink loads, even if it has to be Coke. Don't buy them anymore Haribo. Keep an eye on them at the deep end.'
'Not my first rodeo,' says LSB tightly, narrowing his eyes.
'AND DO NOT buy them those bastard rabbits.' I add as I leave. There is a shop at the resort which sells necessary items like sun cream and armbands and wine, and then shite such as battery powered rabbits (not THAT kind, you dirt birds) but badly made toys on leads which small children can trail about after them. They make a horrible droning sound, so of course my children are transfixed. At €12 each, I imagine they cost the equivalent in cents to make in a factory in Guangdong Province in China.
I spend a hot afternoon in Palma and am unimpressed because the shops either cater for teeny bops in chain stores or for the rich set, who can afford to shell out £400 for a top in posh designer stores. I spy a dress which I fancy because it's white and airy and in an effort to 'pack light' I've nothing clean left. Despite being in the sale it is €85. I read that Mallorca is more expensive than mainland Spain because everything is imported, and I confirm that disappointingly, this is true. The shopkeeper is a picture of bronzed elegance. The look she gives me suggests that I am not the clientele she wants in her shop. I give her a sour look as I leave.
My phone beeps as I receive a text from LSB which alludes to his great misery: 'Pls go to a pharmacy and get me plasters. My poor feet. They bleed.' Prior to our trip he had dug up an overgrown shrub in the garden, but some ants took a fancy to his ankle and left a trail of bites along his foot. These were irritated by his choice of footwear on holiday, when his socks stuck to them in the heat. He's not a fan of the flip-flop, my husband. So the whole afternoon, in Palma, I buy nothing other than Elastoplast and a mango ice cream.
A small over-heated child screams for a solid hour on the bus back and I return to our room hot and sour and frazzled. I hear the a dull electronic noise before I even reach the terrace. The children's mouths are a deep shade of electric blue, so there's no hiding the fact they have eaten bubblegum lollies. 'Look at our bunnies!' says the Small Child. Georgina's is called Lola, and what's mine called again? 'Lily,' her sister reminds her.
They have flung all my things out of the dressing table and used the drawers  to create 'hutches', complete with water bottles and sweets for food and beds made from socks.
The bunnies accompany us for dinner, on their leads. Children beam and parents smile wryly at us, obviously thinking 'You're a pair of mugs, giving in to them.'
The next day Bunny Lily comes a cropper when she gets dropped or trampled on and a leg snaps off- a piece of plastic adrift in its cheap polyester casing. 'That looks like I nasty break,' says LSB, but the Small Child is devastated, and even a game of 'Let's take bunny to the vet' does little to appease her. 'I suppose that's what happens when you buy cheap tat,' I mutter darkly to him. 'I got an hour to read my book in peace while they played with them and you went off on your own,' he says. 'Don't knock it.'
The Mothership has been appointed 'chief fixer of toys' and the children have devised a plan whereby she must cut open the material, superglue the  leg back on and then sew it up again. I'm sure she can't wait until we're home.