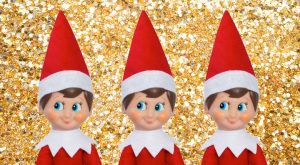 I'm going to write something very controversial this St Stephen's Day and here it is: I don't mind the Elf on the Shelf. As you are well aware, I tend towards the curmudgeonly end of the spectrum. I don't suffer fools, especially small pretend ones, clad in red. But the key to this malarkey, is to set the bar low, extremely low, and befriend others who do the same. Should you associate with the sort of people who wrap up their entire kitchen with Christmas paper or tin foil, then I suggest you rethink the allegiance: there's enough packaging going straight into the bin during the festive season without this sort of nonsense. And tell me, who has time for these shenanigans anyway? Not I.
If you are a parent of small children, debating whether to get involved with Elf nonsense, then this may be the post for you. I read in the i-paper of some eejit who got on the trend and rued her decision, having spent hours planning activities, and forked out money on it too. Was she right in the head? I asked myself. Aside from buying the thing a couple of years ago (and it was, of course, LSB's idea, which was initially met with deepest opprobrium,) all I bought this year was a packet of Haribo Star Mix from which I fished out the eggs  so the Elf could do a fry up.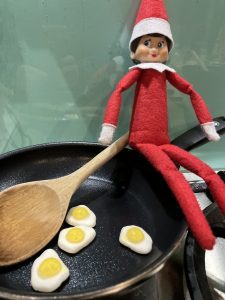 Our 'elfsploits' usually took place after 10pm, when one of us would sigh and say 'What's that fecker doing tonight? Some shuffling about ensure before it would do something feeble, like read or book, or sit on our decorative llama.
My favourite activities did require a wee bit of thought, (still, after ten o'clock though) such as when I drew a rough illustration and coloured it in, writing, 'I've done an elf-portrait!' On a baltic evening mid-December, I drew a fire and dressed the elf in a coat my lovely Aunt Freda had knitted for a Barbie. 'I'm cold!' said the note, because our elf isn't blessed with imagination. When Messi clinched the final for Argentina the elf boasted a blue and white striped shirt, attached with a piece of tape. 'Vamos Messi!' it had written. It played Happy Families one night with two teddy bears, whom it was beating soundly, sitting proudly with a whole family of moles, another of owls and foxes. The teddies didn't fare well, but they never have been known for their intellect.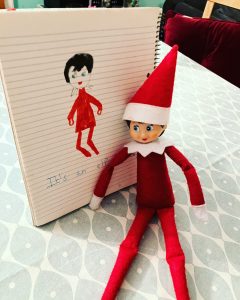 LSB thinks he trumped it though, by wrapping it in brown paper and printing out a QR code. The note read, 'Your Mum tried to sell me on Vinted!' After that, the only thing he did was set the Elf in a shoe. He peaked too soon. One weekend, the Elf spent the entire time in the tree, Friday through to Sunday. 'Flip, that elf really is rubbish,' I said to the girls. 'She seems to like it up there,' opined the Small Child. Sure enough, in her farewell note, the elf wrote that she loved coming to our house and hanging in the tree like a sloth. I'm telling you folks, keep it simple. And if your kids don't like it, just say the elf didn't like it either and won't be back.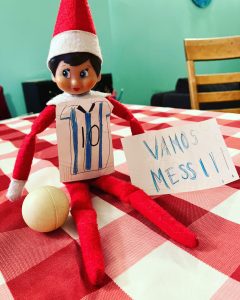 I hate to quote Christina Rossetti, because she truly was a miserable auld bastard, but when she wrote 'The Bleak Mid-Winter,' she wasn't wrong. So a wee bit of magic for the kids with minimal effort? For twenty-five days, I can just about manage it.