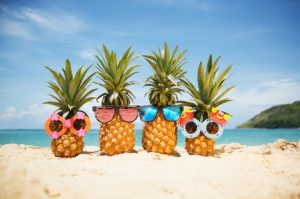 I took the head staggers last summer. After two years of Covid restrictions I was suffering from many things, but primarily it was over-exposure to children. I took to the Internet, frantically googling summer camps and signed them up to seven weeks of back to back activities. Come August, I had almost bankrupted myself. The children had summer scheme fatigue after it, and said they needed a holiday after the holiday, having been trailed hither and thither every day.  I felt it was important to introduce some routine after lockdown, but looking back, I see that I did rip the arse out of it a bit. This year I'm having to reconcile myself to being more pro-active when it comes to entertaining them. 
Happily, I've managed to book them into a course in Avoneil Leisure Centre for the first week of July and I'm hoping that Kinedale Donkey Sanctuary will run a camp in in August. We're also away on holiday for a couple of weeks. That still leaves a month though, and I'm not sure that benign neglect as an approach to childcare is going to cut it. Pray tell me, exactly how does one prise children from their screens without having to listen to them bleat 'I'm bored' every ten minutes?   
I've wracked my brains and below is a list of a few ideas to keep the girls happy and make me feel better about my lackadaisical approach to parenting.  
Create a campsite experience in the garden. Pitch a tent,  roast smores over a BBQ and sleep out. I'll camp too, less they get frightened, but I can just cart out all the snuggly bedding from the house so it won't just be a thin karri-mat between me and my patchy uneven lawn. I always find camping more bearable when one has access to one's own toilet facilities. 

 

Have a toy and book swap. Other people's stuff always seems more interesting than your own and last year a friend invited us to spend a happy afternoon rifling through bags of cast offs. We dropped a bin liner of unwanted items to Oxfam and did a spot of decluttering ourselves. This was a much more palatable experience than traipsing round Smyths while the kids ogle some plastic shite we don't need. 

 

Spend more time at the beach. One of the joys of living in Belfast is that one can reach sandy shores in well under an hour. I stayed with a friend in Portstewart this weekend and I felt mighty replenished after only a brief spell by the water's edge. Growing up in Bangor the sea used to not only be freezing but full of sewage too. There have been huge efforts to clean up our coastlines so if you can thole the cold, the water is a much more tempting prospect. That's a few day's out sorted then.
Now, here's what NOT to do: 
This 'savvy saver and mum of two' Emma Stretton shared her suggestions for keeping the children busy in the Mirror. One of her recommendations was taking the kids to Ikea for a 'fun day out.' One of the reasons why I HATE an Ikea trip so much is precisely

because

people like Stretton take their children there just for the craic. When I'm trying to note down the dimensions of the Söderhamn sofa with one of their futtery little pencils, the last thing I need is a squawking youngster in my ear. I also think it's a short-sighted plan: who can push a trolley through Ikea's Marketplace without filling it with napkins and glasses and picture frames? Trust me, this is not an excursion for the fiscally challenged. 

 

Stretton also suggests baking, which I am going to strongly advise against: step away from the whisks and the bowls and the Magimix. I am still battling a banana bread belly from 2020, and while I love the smell of a 

Victoria sponge wafting from the oven, the washing up afterwards negates the enjoyment. The more conscientious parent may argue that baking improves literacy as their offspring read recipes, and develops mathematical skills as they measure ingredients.  I'm past caring. They can measure some water and cordial into an ice lolly mould and that'll do them. 
So that's my plan to prevent boredom and a keep clean kitchen. Does anyone else have any ideas?