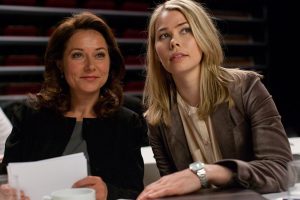 If you want an honest answer, ask a child. I was musing this morning about what I should write about today and up chirped my eldest. 'Maybe you could say something nice instead of complaining all the time?' she said, before adding, 'and using the f-word'. I think she's in cahoots with the Mothership. So, what would you know but I took her advice and instead of boring you rigid with my mundane life, I'll tell you what's been keeping me going, all with a little nod to International Women's Day which was on Monday.
What I'm watching- currently we are on Season 2 of 'Borgen'- have you seen this yet? It's a stylish Danish drama where women lead the game. While it's palpably obvious that we can't have it all, (and feck me, but it's lonely at the top,) this shows women with integrity who aren't afraid to be mavericks and challenge the system. We see life through the lens of a female Prime Minister and a top (and sickeningly young) journalist- both with personal lives which are every bit as complicated and interesting as the political arena in which they operate. It's very hard to stop at just one episode, but what's reining me in is that there's only 3 seasons so I'm rationing myself. I see there's just been a deal with Netflix so a fourth will be on its way, hurrah. The first episode in Season 2 is an absolute cracker- and made me think of Homeland. How I have missed Homeland…
Poor old LSB; when I suggested a movie on Saturday he was hankering after something with random explosions and a lack of dialogue, but I took hold of the remote and chose Late Night, starring Emma Thompson at her best, most pithy self and Mindy Kaling, most famous for not only starring, but writing in the American version of The Office.  Tackling women's issues is at the heart of this film, with Thompson playing a television presenter in her fifties who has been deemed past her prime by her network who are looking rid. This is where Kaling is wheeled in. Employed simply because they need both a female and a person of colour on the writing team, she immediately, (and predictably) kicks ass through a mixture of her audaciousness and vulnerability: Brené Brown, eat your heart out. The show thus tackles issues of ageism, gender and race: I've never worked in television so I've no idea how much of it rings true, but in a post Weinstein era, this movie is as funny as it is necessary. The best moment comes when Thompson's character takes her younger, male replacement down on live TV, wiping the smirk off the cocky little misogynist's face.
Who needs fiction though, you might be thinking, when you have Meghan and Harry providing drama to sustain us for the rest of lockdown (however long THAT'S going to end.) I wasn't going to watch, but I was doing my dishes at the sink on Monday evening and thought, why not, I may as well be informed. But is informed the right word I wonder? Sure, I hadn't a notion what was truth or falsehood by the end of it, and did wonder how anyone as obviously clever as Meghan Markle could have been so clueless about what the monarchy was like. Outdated, dysfunctional, and endemically racist, I'm not marrying into the family and I wouldn't need Google to tell me that.  I had to laugh though when Oprah asked Harry how he found life in California and he remarked that the dogs were happy. It's the first time I've ever felt a kinship with a Royal, given the attention we've lavished upon our pets of late. The greyhound hates storms so she's been in our bed, her long legs pressing into my ribs. 'As long as she's ok, ' I mutter to LSB as I manoeuvre myself into a tiny ball.
What I'm reading: I've just finished Wintering by Katherine May and might I suggest that you put your order in at Books Paper Scissors and invest in a copy because although penned just before the pandemic, it seems to have been written for this time. It is a beautiful memoir with practical tips on how to build yourself back up again if you're burnt out and dispirited. Can anyone relate? Much is about forging a connection with nature again, and as the title suggests, living in accordance with the seasons. I've long been interested in the Scandinavian way of life, (who doesn't love a bit of hygge?) and I loved the details about how Northern Europeans survive the long winter months. What is prevalent though is that you can't avoid the winter, literal or metaphorical, there's no way to see off the darkness, but to see a way to live through it and be receptive to the shards of light, from wherever they come.
Did I manage an entire blog post without complaining? Not exactly, but small steps.