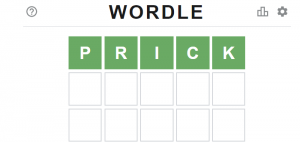 Some things are sent to try us. Children. Pets. Wordle. Wordle started off for me as an enjoyable diversion from the woes of the day. It was Fi Glover, (of the 'Fortunately' podcast with Jane Garvey) got me on to it. It's one of the highlights of her day, she says. Up she gets, pours a cup of coffee and climbs under the covers until she's cracked it. It may seem sad that one of the best bits of her day happens before eight am, but given the state of the world, that may be the case for most of us.
However, what turned out as 'a bit of fun' for me, has inevitably, morphed into a  torment. Oh, the gloom which descends when I struggle to find the solution, because increasingly, these words can be strange and elusive. Don't start me on the American spelling of humour from a few weeks ago, that nearly turned me off Wordle altogether. But it didn't, because now I'm hooked and sadly for me, LSB is too. He's also irritatingly good at things, and he'll mildly trill, 'Got the Wordle on the second go!' while I generally take four or five. I no longer associate the word 'great' with any success. Surely it should be 'mediocre', if you're only one step away from 'phew'.
It is also ill-advised to attempt the Wordle of the day at seven thirty, as I did on Saturday, when I was mildly hungover and tender of tummy, since the night before, a friend and I had dined in General Merchants on the Ormeau. It has resumed its evening service after a long hiatus and I'm delighted, having always loved the cosy, candlelit warmth therein. The chef excelled himself with a creamy, caramelly, baked custard, topped with a fig and strawberry glaze. I'm still thinking about it. We had no more need for a cheese board, but ordered it anyway; a foolish move as I horsed a slab of blue cheese into me that would have felled a donkey. Anne Patchett recently decluttered her home, a task made more difficult because of her habit of anthropomorphising the things of which she wanted rid. I take this sort of madness even further, imagining the slab of blue sitting there on the platter, (looking like my veiny ankles after I've stood too long on a warm day), all sad and overshadowed by the brie and the fancy cheddar flavoured with stout. In order to preserve its feelings, I ate it up, resulting in twisted tormented dreams. I woke up agitated and cross, turning to the Wordle for comfort.
Well, it didn't soothe me, not one bit. There I was, propped up upon my pillows, peering at my screen like a wretched crone, when in trots LSB. 'It's a hard one today,' he says, 'Took me four goes to get it.' Hadn't he only gone and solved it while he sat upon the loo, and then came in to gloat. Have you ever heard worse?  THEN, as if he hadn't annoyed me enough, he sat there playing the 'Heardle' over and over until he got it too. I would never have got the Wordle had he not given me a hint, and even now, I'm not too sure what 'epoxy' is. Far too niche and not at all suitable for a weekend when one may have imbibed too much the night before.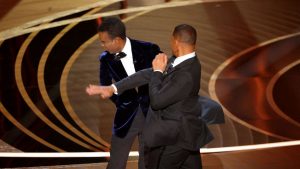 He sent me a jolly little text when I was at work today, saying he got it on his first try. Given that it seems all the rage to dish out a good slap should the mood take you, he may start watching himself. If you're not hooked already, my advice would be the avoid Wordle, and all its other variations. Just drink your coffee in peace and have one less thing to fight with your other half about.