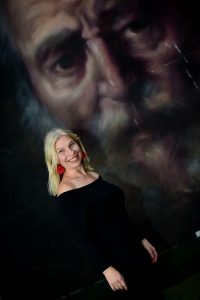 I'm worried that I'm driving everyone nuts on Instagram chuntering on about Second hand September. You see, I just love it. I think it's flipping brilliant. Now, I'm no cheap-skate, so don't ever confuse my lack of enthusiasm for spending money on clothes with an aversion to spending money in general. There's few people I loathe more than a tight-fisted fecker.  However, I do object to shelling out fifty quid on a top from a High Street chain that has cost pence to make in Bangladesh because they're paying their workers a pittance in some shithole of a factory that collapse around them with the merest hint of an earth tremor.
Feck that.
Nor am I some kind of anti-new zealot. I do sometimes buy new, and trust me, if you were afflicted with my feet, you would too. I am woefully flat of foot and have the beginnings of a bunion. It is a terrible and painful state of affairs, for my wallet as well as my feet. But, thanks to God above I have discovered Campers, and I am never going back. Ever. They suit the shape of my deformed toes and I reckon that any shoes that don't torture my tooties are worth it. So yes, I do buy new, when I have to.
But one of the best things about a pre-loved item, is that my friends know that I have no shame and regularly heave me a bag of garments to plunder through. There are few activities I enjoy more, truth be told. Most recently my pals Louise and Brenda transformed my back-to-work wardrobe when I got a call to start teaching again in September. The whole lockdown experience had quashed any creativity I had left for knowing what to put on me. Not a notion did I have, and everything I owned appeared to be blue. Navy blue, duck-egg blue, royal blue. I feared I was going to rock up at the school looking like the blue section of the Dulux brochure. So when they arrived with jackets of mustard and cerise and patterned dresses that my tiny addled brain couldn't contemplate, they injected some colour and vivacity back into my wardrobe. It was all very jolly and cheered me up of a morning.
I also love it when people see me and they say 'I know that dress!' and are all chuffed to see it getting another airing. And I love having money left over at the end of the month so I can pay for a room in The Sandhouse in Rossnowlagh. How much better to spend the cash looking at the incoming tide and making those memories to carry us through the winter (which, according to the news earlier, may be a bit shite).
But with my enthusiasm for the second hand, I don't want people to feel like they're being judged. At the beginning of the month I went out for dinner with my friends and one of them had recently denied herself a new frock f because she feared I'd be affronted. 'Not a bit of it,' I said. I think it's an opportunity just to shop a bit less and to make more considered purchases. I used to shop all round me just for the hell of it and I don't do that anymore. I shop less and tend to put more on the items I decide to buy.
I'm actually a bit sad now that September is coming to a close. It gave me a wee thrill, sharing pictures on Instagram and keeping in touch with some friends when meeting up in person hasn't been an option. It's been a distraction from everything- a bit of much needed frivolity, and f**k knows we could do all do with that right now. So if you do see me posting my attempts at second-hand chic well into October, then just humour me.