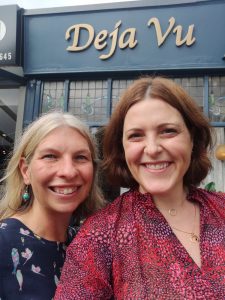 Scarves by Moschino; Louboutins in bubble gum pink, brogues by Paul Smith. Yes, you are on the SWB site and yes, I know I never mention labels. Usually I'm Mrs Kill-The-Craic, Mrs Reduce-Reuse-Recycle, sack cloth and ashes and all: that's me.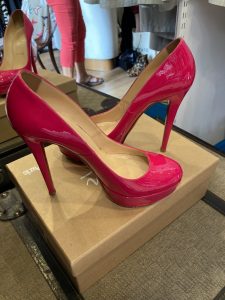 But today it was all change: wait til you hear.  Didn't I take myself over to Déjà Vu on the Lisburn Road, where I spent a cracker of an hour chatting to owner and style guru Ruth Seaby. Jeez Louise: by the end of it I was nearly asking for a job, such a lovely time was had. She knew most of the customers by name, and when they came in it was all, 'would you keep an eye out for…' and Ruth was right back with, 'if anything comes in that's black and a size ten I'll be straight on the blower.' It was ever so convivial.
This end of the Lisburn Road a glitz and glam fest. Déjà Vu is tucked neatly between a coffee shop and Sumo-cat Sushi, just down from a pretty blow dry bar, (La La Salon, if you don't mind, it's very Rodeo Drive, baby) and a funky little brow bar next to that. Now, I don't give two hoots about brows and lashes, but if it makes you happy, knock yourself out. This year's been shite, so who am I to say what you do with your face?
But back to the clothes. Déjà Vu is where to come if you're looking something swanky and different, but minus the designer price tag. Yes, I'm quite aware I've pinched TK Maxx's marketing slogan, but this is an entirely different experience because here, you get the benefit of Ruth's expertise. The shorts I bought in Galway (remember the three euro ones from Oxfam?) were a bit loose, (how the hell that happened I don't know) and she had found me a blue Guess belt and shown me how to do the French tuck; (try saying that after a few mojitos) within a few minutes of my entering the shop.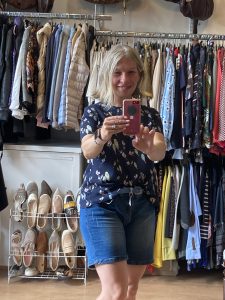 This is the perfect place if you're looking for a couple of unique items to spruce up your wardrobe and I got lucky.  I was mid-chat with Ruth when I squealed: 'Is that a Diane Von Furstenburg?' and indeed it was, a stripy dress in the trademark wrap over style that flatters the tum of a 42 year old who's had two caesarean sections. Unbelievably, it was in my size, and I was even more chuffed than I was last week when the child's PCR result came negative and I could send her back to school.  I've always fancied a Furstenburg piece, but wouldn't fork out for a new one and couldn't be bothered with the hassle of doing E-bay. Here I was able to try and buy, with no pesky packaging or trips to the post office. Hurrah, says I.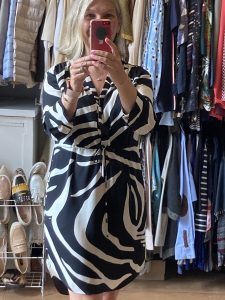 Here's how it works should you have any items to sell. Ruth takes clothes which are in season and in pristine condition and keeps them a few weeks to see if they goes, and if not, you can come and retrieve them. Should they, you get fifty percent of the sale prize. Sounds fair to me.
So there you go, a #secondhandseptember win for me, (two actually, if you count the belt). If you like your more exclusive brands, then keep this place in mind, as it takes browsing to a new level. There are clothes to suit everyone: Ruth told me that increasingly she sees students coming in, on the look-out for quality items that they will re-wear again and again. 'Far more savvy than our generation,' she says. 'These girls do it better.' I think she's doing pretty well herself, is our Ruth.