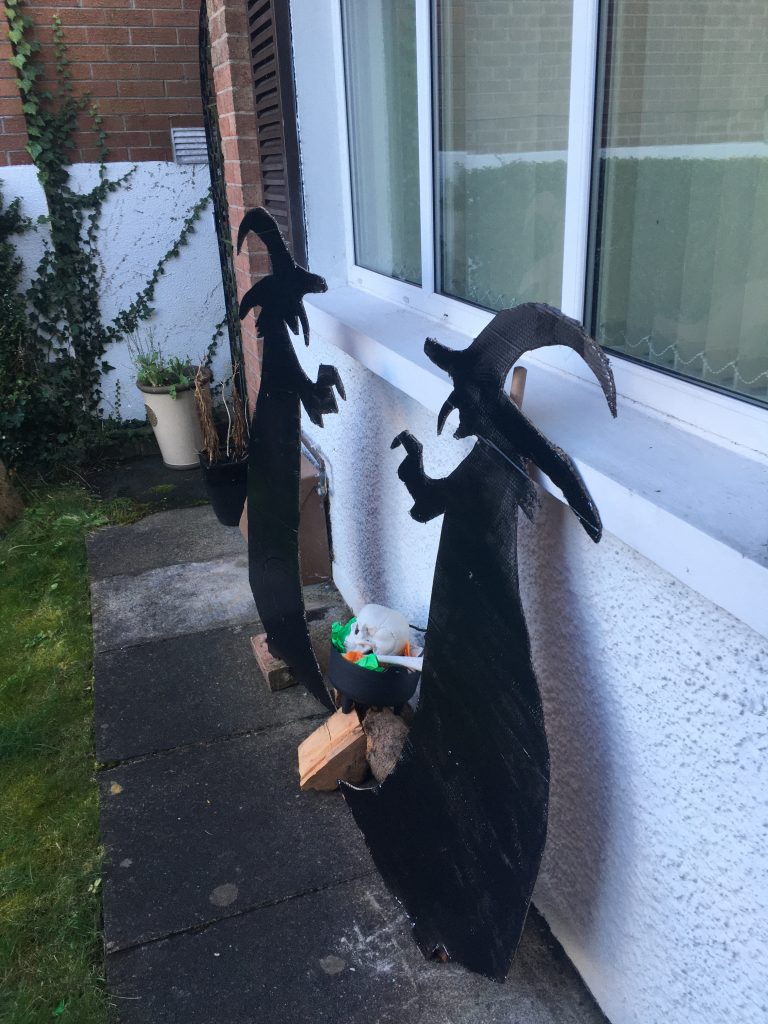 There are newish neighbours at number one on our street. They hail from Derry. Sometimes it's not that apparent, and at others, the Derry-ness is pure hanging out of them. I shall explain. Down I went the other day and called in, as they are not only neighbours now, but friends, and occasionally we inflict our off-spring upon each other, and partake of the odd glass or two for the purposes of merriment.
'I've just er, been making a couple of silhouettes for the lawn,' the man of the house says, heading out to the garage. 'Come on til you see them.' I look blank, having no idea what he's on about.
'Witches,' he says, 'You know, for next week?'
He's been busy all afternoon, up to his eyes with a Stanley knife and spray paint. Had that been my husband, we'd have been in the Royal for sure, with a pair of severed thumbs.
Inside the garage stand two huge witches he's cut out of cardboard packaging from a lawnmower, using a photo he found on the net for inspiration. They are far superior to any of the nonsense down in B&M and he made them without so much of a template. If there was a 'Bake Off' for homemade Halloween Decorations he'd at least make the semi-final, no doubt about that. His wife, my pal Brenda, is very taken with the witches. There's talk of a cauldron, into which they will pop a skeleton and fake smoke.
Proper raging I am, because I need allies on the street who do FUCK ALL for Halloween. I'm utterly sick bemused by this malarkey because I'm not from Derry, and I haven't a notion, and there's no way I'm heading out to the shed to mess about with five-foot witches. My husband will claim he's got one of those already.
Maybe it's because I'm from Bangor, but we never took H'ween seriously. Au contraire, up here in the Rosetta region, certain families go ALL OUT- and preparations begin weeks in advance. Now, before the Mothership rings up, incandescent with rage and calling me an ingrate, we did, when I was at primary school, host a few Halloween parties. I recall bobbing for apples and homemade apple pies with coins carefully wrapped in tinfoil. There were fairy cakes with white icing and some rather dodgy looking spider webs on top. (My nana was a wonderful baker, but faltered somewhat when it came to embellishing her creations. Again, no 'Star Baker' for her on 'Bake-off'.)  Back to the parties.  My mother strongly discouraged any dressing up on these occasions: 'Don't bother going to all that trouble,' she would say. Once a child came along decked out in a full-on creepy witch ensemble, with her face powdered white and a spider drawn in eyeliner on her cheek. She felt like a right prick with everyone else in their jeans and jumpers.
Funny enough then, I never won any prizes when it came to the Brownie's Halloween party. Many's the notion of dressing up I harboured, but all came to naught. Other than a mask bought for 49p in Wellworths, all our costumes were dug out from our 'dressing up box.' There were a few floral nighties we used for fairy costumes, a long black velvet skirt for witches and a cowboy hat. There was also a black and white poncho- or the 'all purpose poncho' as it became known. I wore this when I dressed up as a witch to every  Halloween party between 1984 and 1987 and when starring as a Native American in a primary school production. My brother wore the poncho. Little friends wore the poncho when they visited (maybe they were just cold; our house was several degrees chillier than everyone else's).  There's even a picture of a toy womble wearing the poncho, when he was off to a party. My toys had terrific social lives.
I did used to like Halloween though, that was until my evangelical phase when we went up to the Elim for youth club one night and the pastor showed us a scary video of satanic practices, which possible eluded to child sacrifice. I was only 14 and very innocent and it scared the absolute shit clean out of me. I couldn't look at any class of a costume or even foil wrapped orange sweet in the same way for quite some time after it.
But people, this Halloween caper has become infectious. We have bought a skull and cat stickers for the window. My lovely friend (also from Derry) brought me a selection of garlands and tinselly things in autumnal shades, and today, in Portstewart, I came across a 'Party Shop' and was stricken by what Marian Keyes refers to as a 'sudden wild enthusiasm.' Yes, I was as surprised as anyone, when I came across a werewolf decoration which made a scary sound while holding a welcome sign.
'WE HAVE TO GET THIS,' I gushed, as LSB looked round him, looking for an alien spaceship which had body-snatched his wife. Terrifically gleeful I was, and wanted to buy another ghoulish creature to boot, except the children protested. 'Put that back mummy!' yelped the older one.
It would appear I've come round to Halloween: happy trick or treating everyone.