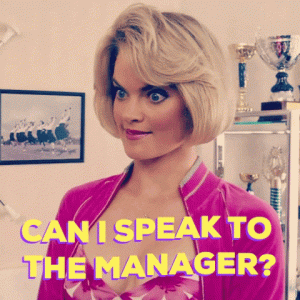 Miss Ranty Pants is back, fuelled by a jaunt into town Saturday. Now, in good old MumsNet style, I'm going to begin by asking AIBU? ('Am I being Unreasonable,' for the uninitiated.)
Picture the scene: I am in JUBILANT humour. I have met a friend from long time hence in Avoca and we have eaten scones the size of our heads and drunk lattes and chatted about 'all the important things.' I met Leeann in the queue when I went for my first Covid vax and we decided to have a coffee before our second. Isn't serendipity a marvellous thing?
We were in and out of the SSE Arena under 20 minutes (it's expedience personified down there) and so, gifted with this pocket of free time I gave LSB a ring.  'Away into 'House of Fraser' and buy yourself something nice,' said he. Say what you like about my husband, but he's not a bad auld spud.
Now, you know me by now. I champion the small businesses, the organic certified cotton, the second-hand boutiques. But the mischief was in, and I thought, feck it, I will treat myself, and stop being so sanctimonious. And, the delight indeed, when whizzing up on the escalator to the third floor, I spotted 'Sale' signs: festooned on walls; a-dangling from ceilings; perched atop individual rails. It was to such rails that I gravitated, because I do love a bargain. And then, didn't I spy some silken loveliness in bright spangly colours. Four items I took into the changing room and after much deliberation, and some lamentation about the absolute STATE of my upper arms, I selected a green silk sarong and matching camisole with a fetching, (and some might say tropical) pineapple print. I also lifted another wrap top to cover the aforementioned arms.
And then, the guilt hit me. Pricey they were, and I couldn't see anything on their labels about sustainability or eco-friendly credentials. I thought that maybe I should just go home, and 'shop my wardrobe.' I dithered. Then, who did I spy but a teacher from the school I was last working in. I explained my dilemma, to which she replied, 'BUY THE OUFIT FOR GOD'S SAKE.' She's the kind of woman to whom one listens, so off I went to the cash desk.
And this, readers, is where it takes a very sad turn. Nothing was reduced: not a jot. Despite the sign atop the rail, it did not apply to any of the items I had lifted. The girl was very apologetic. Affronted, I left them there, and then took a dander back over to the rail. Nothing had any mention of money off at all, despite the signs indicating that they were on offer. And so, unable to contain myself, I became that person, and I asked to speak to the manager. Over she duly came, (we'll call her Sue) and God love her, Sue looked like she could do with a nice coffee and a sit down. I explained the situation which I described as not only misleading, but duplicitous. I suggested that this was why the store was usually empty and why the High Street was in a state of chassis. (Not this Saturday. This Saturday it packed, which didn't lend my argument much credence.) Sue revealed that the precise wording of the offer was 'Up to 20% and only on selected lines.' I retorted that I was a busy woman, and I hadn't got the time to be prancing about, trying on 'sale' outfits which weren't on sale at all. I may have used the phrase 'false advertising.'
Phew, I'm done now. Needless to say, the outfits remained in the shop and I came home and found a dress I bought in Valencia in a small boutique two Easters ago. I think it cost forty euro. I thought it was very pretty, (but not so much in the picture below where I look like I should be presenting Songs of Praise from a National Trust venue.)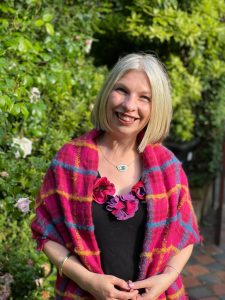 To return to the start of this rant, AM I BEING UNREASONABLE? Ever so irked I was. Do let me know your thoughts on the matter, and whether, after my experience, you are likely to be frequenting the store.