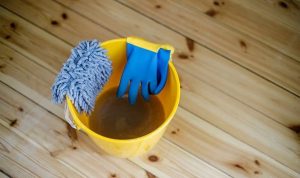 Once, I had to endure a conversation with a colleague about the virtues of her new steam mop. Almost glowing she was, on the topic of her sparkling kitchen tiles. 'I can't wait to go home and get at it again!' said she. I hoped fervently, that never in my future would I be a person who got their kicks from cleaning.  
But what is life, if not full of surprises? Last week, when I found al brush attachment for the hoover which enabled me to reach those pesky spaces between the bannisters, I felt something approaching joy. 'Is this what happens when you turn 42?' I pondered mournfully.
Don't get me wrong; I don't LIKE cleaning, and especially not without my trusty marigolds, lest I chip my acrylic nails, but I like living in squalor even less. And I have to admit something else here, which I hate very much, but it seems that the Mothership is right. Again.  She'll be insufferable to listen to when she reads this, but there we are. She counselled against getting pets and she had a point. Animals are a pain in the arse, not least because they've augmented my cleaning three-fold. That's likely a modest estimate; it's probably ten-fold. Now, I've to take the sticky roller duvets and clothes before they even hit the washing machine, which is rarely off. I'm never done brushing and hoovering and mopping. And all this before I get to washing out tins of dog and cat food and scraping hardened foods off their bowls. 
We've had to invest in carpet cleaning services and last week, finally admitted defeat and chucked a rug in the bin. You know me and my hatred of waste, so I found this very traumatic. At least it was a few years old, but I'm not going to lie to you, it hurt. 
 I know what you're thinking, because I can hear the Mothership's voice in my ear. 'Don't let the animals have the run of the house! Turf them off the beds!' But this is coming from a woman who used to get up at three or four am, when our erstwhile cat Snowball woke up and wanted out. He would wake her every night and then take his time, stopping to lick his paws at the top of the stairs and she had to chivvy him along. However, he was, she claims to this day, an exceptional cat. 
We're suckers for pets, in our family, and also for letting our children do whatever they like, hence the coffee table, and, let's face it, much of the floor, is strewn with pieces of card and paper and other ephemera that they've snipped up and left at their backsides. (The Mothership is in my ear again.) 
And this, everyone, is just the cleaning, before I even touch on my nemesis which is endless piles of stuff, and clutter. This is why, when I caught a snippet on Frank's Phone-In this week, when he was on with Lisa from @Orderinthehouseni, I felt that frisson of excitement again. Lisa and Claire will come to your house, armed to the oxters with storage solutions and fresh ideas, and they help you sort your shit out. What also makes me do little jumps with glee is that they're also very knowledgeable about where to pass on your stuff in an effort to keep it in circulation and out of landfill.  The last two years have seen our homes become our workplaces, our social hubs as well as our havens, and it's taken its toll. Some folk on furlough were able to tidy and sort and organise, but with work and home schooling I wasn't one of them and my shambles of a house bears testimony to this. I need help. I think I need Claire and Lisa. Or a miracle.