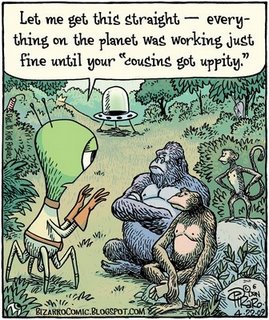 I have turned into a fanatic. I'm having flashbacks to myself as a teenager when I frequented the Pentecostal Church. There, I would meet kids who one moment were drinking Scrumpy Jack in Brice Park and the next were reading their testimonies and announcing they were heading to Khartoum to preach the Gospel during the summer holidays.
Except this time it's not about religion, it's about waste. I plonked myself down in front of 'The Devil Wears Prada' the other night and I couldn't focus on Anne Hathaway's transformation or Meryl Streep's icy candour. All I could see was the single-use coffee cups from Starbucks. Twitch twitch, went my eye.
Then I took the kids to a birthday party at the QFT last Sunday but, stop the press, I HAD FORGOTTEN my reusable coffee cup. Well, what a moral dilemma that brought on. 'Please,' I asked the hung-over looking chap at the bar, "give me my coffee out of one of those mugs over there.' 'What mugs?' he asked, bewildered. 'Those ones,' I said, pointing to the draining board. 'But those belong to the staff,' he replied, looking around him in desperation. 'Get me away from this zealot,' his eyes said. Finally my need for caffeine overrode my concern for the environment and I accepted my latte in a disposable cup. However, not before I'd harassed the manager and helpfully suggested buying some cups that they could fire in the dishwasher. (They do have a policy where if you bring your own cup you get a sizable discount, so at least that's some valuable market research conducted.)
To assuage my guilt about the latte, I took it upon myself to take home three black bin bags full of waste and sort through them, popping congealed popcorn into my brown bin and washing plastic spoons. (The QFT do recycle plastics and cardboard but they don't compost and I was in a sort of deranged, save-the-earth-one-sticky-snack-at-a-time mood.) LSB landed in from a fifteen mile run and winced when he saw his kitchen transformed into a recycling plant, and sickly sweet ice-cream oozing onto the floor. 'God help us' he uttered, before retreating for his shower.
Last night, I inflicted myself upon the good people of the Ormeau Road in Boden café, where gorgeous duo Erin and Jo of 'The Edible Flower' were putting on a supper club. Now, if anyone ever deserves a shout out it's these pair. I swear, I would hand-on-heart consider turning vegan if Erin would move in and whiz me up her guacamole and deep-fry me a few leeks. Their food is inventive and ethically produced with love and creativity. Jo also brews her own beer and her Sloe Wit brew  was the closest thing I've drunk to the Bière Blanche I used to guzzle on Réunion Island. There was sun and hedonism in every sip.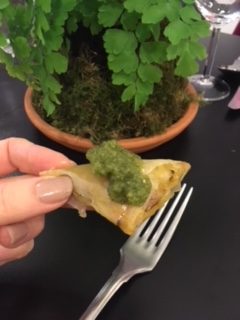 But these girls, boy but they are FEEDERS. We were tempted by golden samosas on arrival, and on and on the sumptuous fare came. By the time the main meal arrived I was lamenting my tight skirt and wishing I'd shunned fashion and donned trousers with an elasticated waist-band. Erin and Jo live in Saintfield in a big old farmhouse where they can grow vegetables- they even have their own pigs. Now LSB has to talk me out of getting a goat or a small pig on a regular basis. 'But it would eat the leftovers,' I whine, and he shakes his head and reminds me that just because there's a field out the back doesn't mean we live in a space suitable for goat habitation.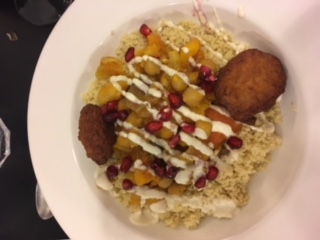 So poor old Erin is lifting a few glasses and there I am, pestering her about whether she's going to be taking the leftover tagine back for her porcine friends. My pals look on, as she explains that they aren't allowed to feed the pigs food directly from people's plates for fear of contamination but assures me that at home every last scrap of potato peeling gets sent their way. 'Good,' I say, before leaping into a cab and leaving her in peace.
Now, at least I have the self-awareness to realise why I'm doing this. Plastic is a hot topic, what with Blue Planet 2 compelling us all to act; but in the face of the world's madness I feel so helpless, that I think at least if I do something small, like save a few bottles from the Atlantic, well, it's better than nothing. But feck, I'm going to have to rein myself in, because very shortly people are going to start legging it when they see me coming. 'Quick, hide my bottle of Ballygowan,' they'll say to themselves, before flinging it over a hedge to avoid a lecture.
If you too, are prone to lunacy, don't be afraid to get in touch. They say 'misery loves company', but us mad women, we quite like it too.