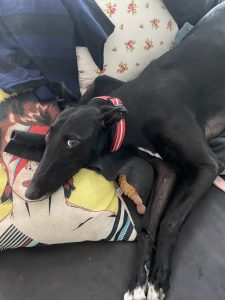 I'm not going to lie to you. We got over-excited. I got over-excited. We don't have the time, energy, or frankly, the funds, to own three animals right now. Don't get me wrong; I love the dog and the cats to bits. The dog infinitely more, because she's loving and sweet and she returns our efforts with affection, unlike the cats who are as transparent as f**k, only sidling round your legs when they're after their fifth meal of the day. The dog is genuinely grateful for any attention she receives, and curled up beside me, as she is now, it's hard to imagine there's any badness in the world at all.
But wait til I tell you. Last week the three of them* conspired to be total melters. We're still recovering, to be honest. We'll start with the cats. We don't have a cat-flap: there's probably no point, as the rotund cat, (who goes by the name of Bramble,) probably couldn't get through it, given his girth. But we're rarely out that long and we have a litter tray, lest they take short. But on Monday, the fat cat took umbrage. LSB had the temerity to mix-up his routine of a morning, and visit the gym before twelve. He nailed a few work issues from his desk at home, took himself out  for an hour and returned, feeling well-pleased with his productivity, only to find a massive dump left in the bedroom. On my V-pillow, on which I like to recline to read. Can you imagine coming home and finding that? Bramble decided that nature called and had chosen to defecate extensively, just to let his feelings be known.  Frankly, he was telling us, we should never leave the house.
On to Monday night then. I was fast asleep, as indeed one tends to be at ten past two in the morning, when the dog woke me with her plaintive crying. On went the slippers, coat thrown over the jim-jams and down the stairs we went so she could relieve herself in the moonlight. And then she disappeared. She was prone to taking off through the hedge and into the field behind us a while back, until LSB, (at considerable expense and effort) erected a fence. She has since found another hole somewhere, and away she went. Now, I'd had the foresight to put her collar on that has battery operated lights (rechargeable, I might add), so I could see the wee red lights flickering in the field beyond. Into the neighbour's garden I went, calling her softly so as not to wake anyone. My entreaties went unheeded, and it was after six before she returned, after Himself and I had taken turns to walk the roads.
I'm telling you all this to make you thoroughly interrogate your levels of stamina before you cave to your children's pleas and get them a pet. Much as we adore our animals, (and trust me, we do, otherwise we'd have got shot of the bastards by now), they cause no end of strife. A girl in work was talking about getting a pup today and I counselled against it. My very good friend looked at me like I'd had a stroke. 'But you LOVE animals,' she said. As a student, she once had to persuade me to give a vagrant back a terrier puppy which he was carting around in the front basket of his bicycle, outside Maggie May's on Botanic Avenue. I was cradling the pup in my arms and was wondering whether to call it Pippa or Penny, when she suggested that I might ring the Mothership first and check if it was alright. The Mothership told me to put the pup back in the basket IMMEDIATELY and that was the end of it. When I was telling this girl to enjoy her current dog free existence, my old pal found it very odd indeed. But maybe the Guardian had it right when in the Saturday's Weekend section's article on 60 ways to make you happier, number two on the list was walking a dog. Not your own dog, I might add. A dog which you find on borrowmydoggie.com. If you're thinking about getting an animal, test drive it first. Enjoy the benefits of a purposeful stroll with a canine companion, without the kennel bills, the hair-strewn furniture and the nocturnal wanderings. And if you're seriously contemplating life with a pet, you can have this one for two weeks in July as a tester. Don't all jump at once…
*Izzy (the wee tortoiseshell cat) didn't do anything dreadful, she just kept up her sustained campaign of climbing over us in our beds and knocking things off the dressing table until we get up and feed her. (Usually at around 6am).