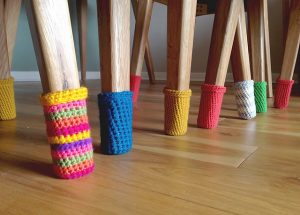 This is one that you may want to file under 'Middle Class Moan'.
It probably says a lot about my parenting that when I say to the children, 'Put the socks on the chairs' they just get on with it, no questions asked.
It's my nerves you see- I'm what you would call a fraught sort of individual.
I am THAT teacher, the one who shouts, 'LIFT IT, DON'T DRAG' when the bell goes, to spare me the scrape of thirty chairs being dragged across a wooden floor. I wince just thinking about that noise.
So, chair socks- I feel it wouldn't be an exaggeration to say that they are indispensable to my mental well-being. Remember the time I decided to foster an assistance pup, and the girls were still so wee and there was piss and poo everywhere and it barked incessantly, and I ended up at the doctor's two days before Christmas thinking I was having a breakdown?
Well, shortly after that a friend called in. She was a level-headed, together sort of a girl, who, as well as working as a GP part-time, did the lion's share of bringing up two lively young boys, because her husband worked in the City Hospital ninety hours a week while also preparing for a shitload of oncology exams.
Anyway, she was over one afternoon drinking tea in my kitchen, when en masse, the children finished their juice and biscuits and leapt up off their seats to go and play. The abrasive sound of the chairs on the tiles set my nerves alight. 'Chair socks,' she said. 'They'll change your life.'
'Do such things even exist?' I asked, aware that my knitting skills weren't up to the task.
'They do,' she said, 'there's not a chair in my house not wearing them.'
I mentioned them to LSB and didn't a pack pop through the letter box two days later. Within minutes all the stools and chairs in the kitchen were adorned accordingly and my nerves were dealt a reprieve.
You don't need me to tell you that the last year or two have been mighty stressful. If, like me, you've got sensitive ears, and/or your nerves are shot to f**k, then chair socks might just be one way to create a more ambient home. I've just had a quick peruse of the internet and there's a stack of knitting and crocheting patterns out there for the socks, so there's a new project for a Knit n'Natter club.
Chair socks:  that's what I'm offering you all this evening, as the world tilts yet further and madness prevails. I'm wondering if they can be bought in bulk for schools? Now there's a thought…