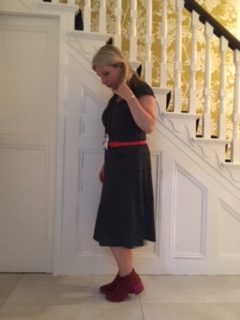 'Here,' I said to The Mothership, showing her a photo. 'What do you make of this outfit?' I'm interested to see her reaction to the statement dress of the summer: the Zara spotty one that has become an Instagram sensation. Her response was typically verbose.
'That's a Dress?' she asks.  'Looks more like a night dress to me, for an older person! Worse, actually- more like a hospital gown.  Mind you, my friend was going into Menarys the other day and there was, what she thought, was a rail of nightdresses by the doorway.  Turned out they were all dresses! Maybe it's a new trend so you can go to the supermarket in your night wear and no one will be any the wiser!!'
For once we are completely in agreement. I had started reading an article on The Guardian on-line, and thought, 'I may get myself one of these yokes, it sounds the business,' until I saw it and was distinctly underwhelmed when I saw the picture.
'It's kind of shapeless, isn't it?' I said.
'It is,' says The Mothership. 'and drab.'
'Insipid,' I reply.
'Nondescript,' she goes on.
'Wish washy' chirps up LSB, who's sitting in the corner and even though he hasn't seen the dress is keen to join in the fun.
'The thing about style,' opines The Mothership,'is that a lot of people just don't have any. I was down the street the other day, and I said to your dad, 'Would you look at the cut of those jeans that woman has on?' 'Sure they're more hole than jean,' he replied. 'And he was right too.'
'But in the dress's defence,' I say, 'at least it's not fitted. No one needs a fitted frock after a week in an all-inclusive hotel.'
'I suppose,' she conceded. 'It would actually be very good for concealing a plump tum.'
'Hmmmm.' I said, feeling that this was a tad pointed at me and my portliness. My excesses have clearly not gone unnoticed.
However, we were talking ourselves round to the dress rightly.
'It's airy too,' I went on.  I could have done with airiness in Palma I can tell you. Readers, I kid you not- the heat in Mallorca was a killer; I can usually cope valiantly, especially if I have poolside access to mojitos, but this was relentless. Even at breakfast I was perspiring into my coffee, most unbecoming it was. 'Maybe it's the menopause,' I said to LSB, mopping my glistening face with a napkin.'It's 34º' he said. 'Would you give over.'
On the last evening of our holiday we took the foolish decision to go for a Mexican. (I mean, who the hell thinks that jalapeños are a wise idea when it would roast you alive?  Us, apparently.) Just for good measure the red tiles on the floor had absorbed all the heat during the day and they radiated an intense glow upwards, sending sweat running down the backs of my legs in rivulets. Like a fool I ordered a margarita and it came with salt AND chilli around the rim, which was just plain cruel. I still drank it obviously, but it didn't make me any better  company, as LSB would readily attest. He truly did earn his acronym on this trip.
Back to the dress.
Thus in such temperatures, a floaty garment, should you choose a maxi over a midi dress, is a wise choice to waft a bit of air around. In addition, to this, I appreciate that this frock could be styled up or down as the occasion demands; and at £40 if you're talking cost per wear, you're on to a winner. I'm currently trying to apply the '30 wears rule' when I buy anything new (or second hand) and it's saving me a fortune.
So here was my take on the polka-dot hit of the summer. I dug out a black dress I bought yonks ago in TK Maxx and wore it with my new favourite pendant- my astronaut necklace from Liberty Blue. If I'd listened to Marie Kondo, I'd have chucked this frock long ago because I bought it when I was postnatally depressed and it brought me no joy whatsoever, but then again, neither did anything else, so I can't hold that against it. However I refused to ditch it and it's now enjoying a revival. Occasionally there are benefits to being a hoarder.
So may I ask, in the interests of pure nosiness, if any of my Sour Wee Readers own the polka-dot Zara dress which I've just slated? If so, I offer profuse apologies and I'm sure you carry it off very well. There's actually something most endearing about it, and I'm always thrilled to see a fashion item which is kind to you when you've been on on the wine and crisps.
(Photo credit must go to the lovely Amberlea from @starlingstart)