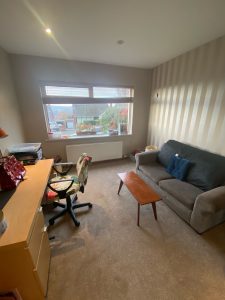 I took a notion folks, and I acted spontaneously. I saw that Order in the House had a cancellation and in I swooped and snapped it up before anyone else languishing in their own chaos could beat me to it.
They came, they saw, and they sorted my shit out. Well, most of it, since it was only a half-day session and it was a VERY messy space. But miracle of miracles, I am typing this post sitting at a desk in a room which last week make me feel queasy, littered as it was with debris and unfulfilled potential. The room in question was supposed to be my study, but instead, it had become a repository for toys, junk, or anything which required a temporary home. The cats spent more time in it than anyone else, a fact to which the scratched sofa bears testimony.
Last Christmas we spent a day clearing it out and it remained pristine for a week before all the crap migrated back in. The floor vanished first and then, not to be out-done, so did the desk. I'm not exaggerating when I say that the shambolic state of the so-called study reflected the scattered feeling in my head.
Anyway, Claire and Lisa rocked up and pitched in, upending boxes and helping me see what could go. When you see your random stuff through the dispassionate eyes of a stranger, you do question your mental clarity. It turns out that I didn't need my P6 vocabulary book, lovingly backed in 1980s superfresco wallpaper; nor did I need two scuffed Easter straw hats, or even a navy bag with a broken handle my dad had got free from Laithwaites.
My main problem was hoarding everything, with neither system for finding it, nor storage solutions to prevent it getting damaged. It rendered the whole process of keeping piles of teaching notes pointless as I could never find what I needed.
Prior to the girls' arrival, they directed me to Homebase in search of 'Really Useful Boxes', since the key to successful storage is being able to see what you have. I have a problem with boxes, in that, if I happen upon what I consider to be a good box, I am reluctant to part with it. Many of my belongings where thus shoved into said boxes, willy-nilly. The problem was that my boxes were cardboard, and without opening each one and digging in, I could never find what I needed.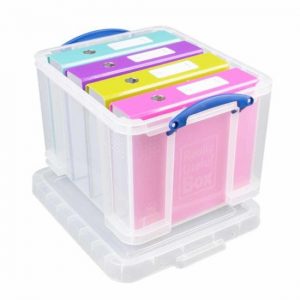 Turns out I'm not the only member of the 'love a good box brigade,' as when I reached the storage aisle in Homebase, I met an older gent, looking on with a beatific expression. 'These are GREAT boxes,' he said, 'if you're looking a box, don't go past these ones.' It was clear that he already had quite a few of the boxes already, but I saw him return to the aisle several times, clearly wondering whether he could justify buying some more. I bought four, and am inclined to agree that they are excellent indeed.
Three and half hours my professional declutterers were with me, sorting and labelling, organising and colour-coding, all the while gently challenging whether I needed to hoard all the things I had accumulated. Do you need it? When is the last time you used it? Is there a more natural place for it? (I love this last one, which is really just code for, why the hell is there a bra lying on the sofa? Why is there a linen tablecloth in a House of Fraser bag in the bottom of your slide-robe?)
Immediately after they left, I carted five large bags to the recycling centre (aka 'the dump) lest I start rootling around in them, taking items back out and undoing all the work.
I learnt that I don't have to keep all the girl's exercise books, even if there are lots of pages left. Keep one and throw the rest into the paper bank. Broken toys go in the bin, not the floor. Bank statements go into a filing cabinet. If a sentimental item is worth keeping, then it goes in a designated box.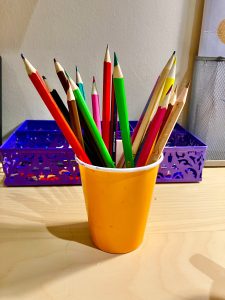 Pens, so many pens, and colouring pencils. I was instructed to ask my girls to sharpen the pencils they wanted and store them neatly, and to try the felt tips and bin the dud ones. What is, of course irksome, is that I KNOW all the this. But when you pay for a service, it forces you to keep at the task, not make yourself a cup of tea and wander off after twenty minutes. I know this because this is what I do when I try to do the job myself. I have failed. Every. Single. Time.
Yes, it was expensive. Yes, I had 'decision fatigue' after it, and felt a bit emotionally drained. But I have a study now, all bright and clear and spacious. I can breathe now. Was it worth it? Absolutely.