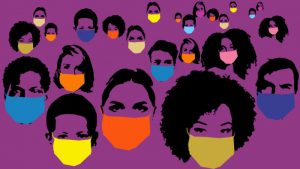 I know it's Christmas Eve and there's lorry drivers stranded in Kent and NHS staff whose arses haven't sit a seat since March. Not to mention Santa: I mean, we've just checked the 'NORAD Santa Tracker' and he's currently just done a mega drop off in Pretoria, so he has miles to go before he sleeps. But do you know who I feel sorry for? Poor auld Nicola Sturgeon. I mean, two minutes she took her mask off. While leaving a wake, for f**k's sake. Stressful things, wakes can be. Emotional even; you may just need to take a big deep breath to yourself. And of course, the bastard oul' Scottish Sun were there, ready to catch her in a moment of weakness. Letting her guard down, literally.
But I bet she is just sick to death of flipping masks. It's not easy trying communicate when wearing a mask. It can be hard to breathe and we aren't familiar with them yet.  I know she's the Scottish First Minister and she has to lead by example, blah blah blah, but she is human after all. We've all had our issues trying to adapt to this new and exceptionally annoying normal. Having to wear a mask all the time, is frankly, a right pain in the hole. Even if you are wearing the nicest masks in the world, (ie a Lagan Dragons's Marvellous Mask), they cause all manner of problems.
My husband and off-spring often suffer from 'refrigerator blindness.' Perhaps you are familiar with the condition? You watch on while they stand, bewildered, searching in vain for the cheese, and after a fruitless search, call for assistance, only for you to reach in and grab the item which is located directly in their line of vision.
But now it seems that we, and a few others in our close circle, have a new affliction, known as 'mask deafness.' Not a fecking word can I make out if people don't properly enunciate under a mask. And LSB is worse. I have now grown quite accustomed to shopping in M&S, and the wee fella who stands at the door asking 'Food or Clothes?' But yesterday I was racing in to exchange some festive leggings that I bought the children and they refused to wear, and Himself was posting the Christmas cards and so came in a few minutes after me.
'What the hell was your man on the door going on about, asking about Fonacab?' he asked.
Cue puzzled expression from me. 'Fonacab?'
' Yeah, he said did I want a fonacab, and I said I was just coming in to pick up a couple of steaks for the dinner. He looked at me a bit funny.'
'I'm sure he did,' I replied. 'He was asking if you were shopping in food or clothes. All you had to say was 'both'.'
'Ah,' said LSB. 'That makes me more sense.'
Still, the wee fella shouldn't have muttered. You get nowhere these days with the muttering. As you know, I've been teaching this term- I'm sure I've mentioned what a truly joyful and altogether edifying experience that has been. The wee year eights though, gosh but they love to share a story and ask  ALL THE QUESTIONS. But their voices simply do not carry under a mask. Not a bit of it. 'SPEAK UP' I keep asking, but all in vain. I haven't a clue what the vast majority of them are on about. I did a lot of nodding and smiling and probably looked like a total muppet. Speaking of which, my poor friend made a right dick of herself in a coffee shop in Ballyhackamore last week. (Like, of all the places to go making a dick of yourself: you know how pretentious they can be there.) Recently there haven't been many opportunities for frivolity, so she had been enjoying some light-hearted banter with a baristas about the 'Spanish' tarts she has a likening for.  Recently the tarts had just been selling out fast and on a few occasions she had to make do with a brownie. She was telling us this over Zoom on Sunday night. 'Don't you mean a Portuguese tart? I chirped up. Custard in a puff pastry case?' 'Pastel de natas,' said another equally pedantic friend. 'Remember I made them for Harper's Yard?'
'If I might just continue,' said my friend. She'd been sitting on with her sons, having a coffee and pancakes and such likes, (all very middle class) and stepped over to look at the counter, and saw, to her delight, a whole clatter of tarts. Her favourite barista came walking over to her, saying something and my friend assumed it was tart related and made a witty comment about being partial to a pastry. He mumbled again, to which she responded, about being an enthusiastic muncher of all cake related products. At this point he raised his voice and told her to wear her mask while 'moving about inside the premises'. She had taken precisely two steps to the counter. Well, that was the end of the fun exchange. Up she got, sharpish, gathered her wee fellas and scooted out, mortified. Very upset she was, unable to pinpoint exactly what had her so distraught. 'Like seriously,' she said. 'What's wrong with me that I can't even have a coffee and a bun without looking like a total twat?'
We were quick to reassure her that there was nothing wrong with her at all and that this is just a very trying period. Nothing is normal, or simple, or as it should be. So I guess we should all be just a bit kinder to ourselves (and remember to speak up when wearing a mask).
Anyway, what with it being Christmas and all, hopefully none of us will have to venture too far and be doing much that requires a mask over the next couple of days. Can I just wish you all the happiest holidays that you can manage over the circumstances, and urge you to keep safe and well. I'll no doubt be on again between now and the New Year to fill you in with what's annoying me.