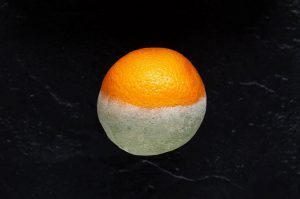 Ha! Made you look! Of course I'm not going to talk about football. I don't have the skill-set to even comment on the sport. I've no more notion, other than to say that I felt for Kane and the whole squad on Saturday because they seem a decent bunch of lads and I wished them well. It's a tricky subject, wondering whether to support the English team when you're married to a man from the Falls Road. He's the green and I'm the orange in this relationship, so I'm going to skip the footy and chat about oranges instead today.
This morning I looked in my fruit bowl, where two mouldy easy-peelers and an elderly lemon glared back at me, with acidic, citrussy judgement. Beside the bowl sat three bananas, completely black and waiting expectantly to fill their higher purpose of being turned into muffins, or perhaps even a loaf. I hadn't the heart to tell them that it wasn't going to happen, and instead my compost bin awaits. (Part of me blames LSB, because he bought an air-fryer which obscures my view of the fruit, making me more likely to reach for a KitKat instead.)
The sight of the languishing fruit provoked an attack of self-loathing. 'Why am I so shit at everything?' I wondered. So much flagellation, at seven thirty-five of a morning, all caused by a fruit bowl. As I walked the girls down to school, trying to admire the soft hues of the hills in the low winter sun, I thought about the fruit looking at me with reproach. They were showing me what I hadn't done, but no one was telling me what I HAD done this weekend.  I won't bore you with ALL the details, but my arse barely hit a seat. In a frenzy of organisation, I restored order to my shambolic hot-press; changed the child's beds (a necessary task, given the cat hair) and I washed and put away a load of freshly laundered towels. They were even FOLDED. And that was only on Sunday! Day of rest my foot.
I thought how we judge ourselves by what we haven't done, rarely by what we have. I challenge you to ask any woman, anywhere, be that in the Sainsbury's queue, the staff room or the office, and she will lament about the state of her kitchen; the vertiginous pile of washing, or the fact that her child hasn't eaten a vegetable since August. Despite even having the selfies to prove it, we still don't remember the walks, the outings, the places to which we ferry the kids. Then there's the 'unseen' work; the playdates we organise; the homework we check, the bedtime stories we read when downstairs there's a dishwasher to fill, pots to scrub and bins to be take out. I'm out of puff just thinking about it.
So much of what we do is intangible; therefore it doesn't register. What we DO see is the minging fridge, or the detritus from the crafts, or the 'to be ironed' pile. (Frankly, the ironing can get to f**k and be flung straight into the wardrobe. To hell with the creases.)
Let's take a moment before the tumult of December kicks off, to appreciate what we do on an everyday basis. Let's try not to see judgement when maybe it's not directed at us at all (especially if the perceived judgement is coming to us from an inanimate object.) And maybe, my bananas actually fulfilled their higher purpose by becoming rich, crumbly compost after all.