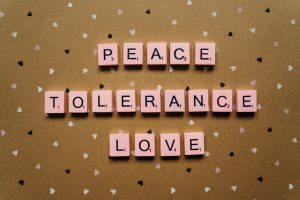 Working full-time. Dogs to walk, children to cart, dinners to dream up and cook. Home works to supervise, essays to mark, lunches to pack, clothes to laundry, iron and put away. Then Monday rolls round again and it starts anew. This all sprung to mind when I read the results of a survey by Warner holidays on happy relationships last week. According to 2000 couples, in order to stay healthy, every marriage needs six meaningful conversations, three long walks and sex five times a week. Yes, you read that right. FIVE. Who, pray do tell, are these people? Are they, a) still in their twenties, (and if they are, then their opinions don't count;) b) do they sprinkle a light dusting of cocaine onto their Weetabix of a morning or c) did they just lie to make the rest of us feel bad? If they do actually exist, would they ever just fling me whatever vitamins they're taking? And while they're it, take the dog round the block and babysit the children, so Himself and I can take the longer route down to the pub.
Seriously, I think surveys like this are just designed to make you feel shite about yourself. The couples also suggest having two 'barn-storming rows' a fortnight. Do these happen before, during or after all the shagging? Surely all the deep and meaningful chats should obviate the need for huge fall-outs, which in my mind, only happen after resentment has built up and festered for a while, or, if your husband has run a half marathon before drinking 6 pints, having only had a bowl of soup for lunch and falls asleep on the stairs on a Sunday evening. (Yes, on. Not at the bottom, or the top, just on). That day didn't end well for anyone. Especially him.
Relationships though. Tricky. As a working mum I feel I am constantly letting someone down: the kids when I heave them oven chips and chicken nuggets; the pupils when my lesson is dry as crackers; myself, when I drink half a bottle of shiraz on a Tuesday. And your relationship just sort of bumbles along in the background. I feel bad when Himself sees me go out to work all dolled up with funky shoes and a nice skirt, then I come in and immediately change into troggy old leggings with long exhalations of  relief, because fuck me, aren't tights really uncomfortable?
But this is all while I actually like Valentine's Day, even it is only buying the M&S meal deal. It's just about recognising that you, as a couple, deserve space and that it's not bad to take it. We don't buy crap cards or red roses flown in from Kenya at extortionate prices. But I do raise a glass and feel very, grateful that I met LSB. He straightens my hair before work and makes me my coffee. He encourages me to meet my friends and still buys me ridiculous dresses from God-only-knows-where on the Internet, but they remind me that he doesn't see me as a knackered, 42 year old mother, but the twenty something who was bopping about in the Duke of York that he met many years ago. And that makes me very happy.