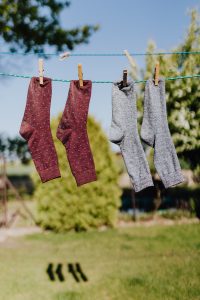 Friday afternoon was gloriously sunny. As I gazed out my window in work the dappled light caught the dancing leaves of the trees. (The Japanese call this 'komorebi' and I love that I know this). Amid this moment of bucolic calm after a busy week, my thoughts turned not to an appreciation of the clement weather, but to laundry. It occurs to me that if LSB can fling on a load, I can have it hung out while there's still some heat in the air. It can then finish drying indoors as the sun warms the front of the house in the evening. There's no better household aesthetic than a clothes horse erected in the living room for bystanders to see as they pass.  And so I picked up the phone and issued instructions. A 30 degree wash, I tell him, and use the laundry egg, because at 30 degree the capsules from SMOL don't melt and we end up with gloopy bits stuck around our pants and I don't want chemicals, (however mild they may be) around my privates.
I rarely let LSB near the washing because he is, in short, a liability. He doesn't separate colours so everything emerges tinged blue or pink. He fecks the delicates in with more robust items and massacres them. Last week he successfully managed the washing of his nice hoodie from Rapanui, only to fling it into the spin dryer without due care, resulting in two large holes in the sleeve.
But I have to accept some  blame because I've made the laundry a total palaver. First is the over-complication of cleaning products, choosing either egg or detergent. The drying process also has several steps, starting with a turn in the spin dryer. Next, it's small items on the whirly-gig which hangs in the laundry room, and any extras over a radiator, before bigger items are slung on the line outside. This process is often thwarted by cats parading in and out, demanding food as the laundry room doubles as their feeding space. I've been known to trip over the bastards in the process. When the items are almost dry, I then give them a 10 minute turn in the tumble drier.
In an effort to reduce the toll all this takes on the planet, what enters the washing machine is subjected first to scrutiny. One cannot for instance assume, that if a child has plopped an item into the laundry basket, that it is, in fact dirty. I thus exercise a swift 'sift and sniff' policy, (underwear excluded.) They may have worn it once for twenty minutes and chucked it in the basket instead of a drawer, so I always check. Heavy items, such as hoodies, demand a closer look, and if not too stinky, then I take a sponge to the sleeves and any stains.
Jeez Louise I'm exhausted just writing this, so I'm going to stop because I could go on, and on, like an endless forty-degree cycle.  Last night though, I'm pleased to say that while LSB was glued to the new Zelda game, the children and  I put away two massive piles of clean clothes and barring three rogue ones, every single sock found it's partner! It's truly the small wins that keep us going, right?