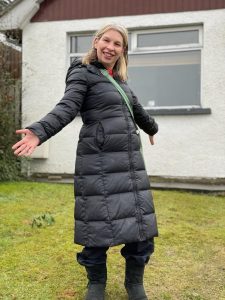 I have a coat (and that's it in the photo).
It is not pleasing on the eye. It was never meant to be a statement coat, but at least one I could wear in public without resembling one of the grotesques that used to feature in 'The League of Gentlemen.' Could anyone ever sit through a whole episode of that show by the way? I had a flatmate who used to LOVE it, but it always made me feel a queasy because they were so rotten (both inside and out). Shortly after acquiring this over-garment, (£40 down from £80 in the Benetton winter sale) I lost the belt which cinched it in around the waist, lending it some form of definition. Its troubles increased when I wore it to the dump, (or 'local recycling centre') and clarried white paint all down the front, which despite many attempts, I have never successfully removed. These remain in grey, washed out smudges. I am a small person, and wearing this coat, which reaches my mid-calves, creates the appearance of a Womble. Given that these days I often take a litter picker when out walking, I would be much better suited to Wimbledon Common than the Upper Ormeau.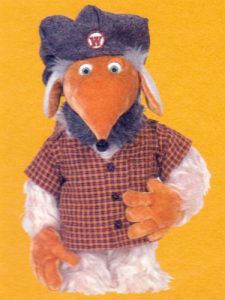 But I love this coat, and I suspect that I am going to love it a lot more in the coming few days, when I shall wear it out, not just when walking to dog, but to friends' gardens where we will partake in libations and revel in the joy of company, sitting together, and not just passing each other in the road or in the school carpark, trying to exchange niceties when we can see and hear fuck all under the masks.
I may take Jess Carter Morley's advice in her weekend Guardian column and wear something that smacks of frivolity underneath the coat- I still have two skirts from Christmas which have never seen the light of day, but I suspect that April isn't really the season for a pale pink sequinned clingy number that LSB ordered from the Savida range in Dunnes. He's a wild one for the skirts, is LSB, but tragically he has underestimated the collateral damage that lockdown has done to my arse: it could be a while yet before I wrestle my upper thighs into anything remotely structured.
What I will do though, for any frivolity in the coming weeks, is pop on a maxi wrap dress I got from Silk Fred, with a cardigan and my Ug boots, and in case it turns Baltic again (because let's face it, it could), I will have the white woollen hat that Santa bought my child from Oxfam and that I have since pilfered. With its multi-coloured fluffy bobble, it brings me cheer- and at the moment, sure you have to take the cheer where you can get it.
Ultimately, who cares. I am just bursting with excitement at the thought of a proper chat. Earlier today I was returning from a jog when I bumped into a crowd of friends at Ormeau Parklet. Well, the giddiness of me was nothing ordinary. There was a suggestion that I'd been on the hard liquor with my Honey Cheerios, which of course I hadn't because now that the children are back at school, I don't have to go to those lengths to make it to 10am. Mid chat, I walked backwards into one of the seat and fell with clatter and a deluge of expletives, much to the amusement of a good-looking young couple with their baby in one of those buggies that costs the same amount as my first car. But hey, at least when we let ourselves down a bucketful these days, we have an excuse and don't have to shrug and say: 'I don't get out much.' We don't, we haven't, and we need a bit of a craic. My pals may have to power-hose me off their patios- such will be my reluctance to shift. I suppose though, that's one of the benefits of a coat which doubles as a duvet. They can just dander off to bed and leave me on the garden seat, if they don't want to resort to force. Jeepers, they'll be saying- there's tankers in the Suez that are easier to shift than that one. Happy holidays y'all.