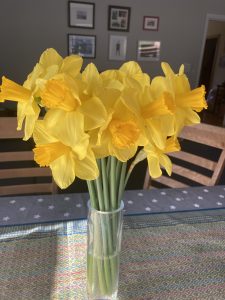 I've taken to listening to documentaries on BBC Sounds while I wash up the pots and pans, and occasionally LSB makes the mistake of asking about them. On St Patrick's Night, he was pouring his first his Guinness, lamenting that it was out of a can and not a proper pint, and I started telling him about a programme I caught on Radio Wales. 'It was about a photographer who had had his legs blown off in Afghanistan,' I begin.
'Well, that sounds cheery,' he said, licking the froth off his top lip and staring into the glass forlornly.
'Oh no, it was brilliant,' I say, with great animation. 'He kept on working and went to Rwanda where he met a survivor from the genocide. All her family had been massacred.'
At this, he got up and wandered over to the fridge to see if he'd put in enough cans to get through the evening.
'But,'  I continue, 'it was wonderful. The photographer says he's now more joyful than he ever, was, he can stand at a bus stop in the pissing rain and feel hopeful.  The Rwandan lady has raised a family of orphaned children, and has found a way to deal with the past.'
'Ok,' said LSB. 'I'll drink to that, and never complain about Guinness in a can again.'
It's an extreme example, I've used, but sometimes I can be so consumed by the shite-ness of everything that I lose the ability to be hopeful. I made the mistake of watching the news before bed last night and came up the stairs with a desperately glum face on me.
'I've told you NEVER to watch the news at night,' said LSB, putting in his earphones to dissuade me from regaling him with all the ills of the world. 'Think of nice things,' he suggested, shutting his eyes and doing his meditation. (He's in to all that mindfulness malarkey now. I suppose he would be, what with being married to me and all.) He was right though, as I thought about the things that had made me feel happy lately. The girls at school again filled with both joy and relief. I felt a frisson of excitement just entertaining the thought of meeting friends in a restaurant; having a dip in the sea at Rossnowlagh, throwing open the doors of the house for a party. I want to meet up with people who live far away, drink coffee, then drink some wine, hatch ideas and plans and dare to dream. The human capacity for resilience is something which has always astounded me. The people interviewed on the radio were profoundly challenged, but they retained the ability to find joy, and actually made it their business to seek it out.
It's hard to find joy right now, and much easier to run around with a face on you like a well-scalped arse. But life, I reckon, has been plenty worse for other people, who have somehow managed to find the tools within to flourish. And of course, it is now Friday, and everything always feels better at the weekend, when a bottle is chilling in the fridge. Even if it has just started to snow. In March.