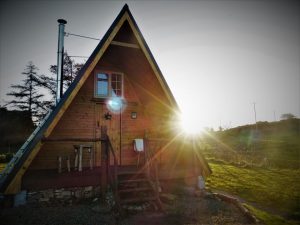 I have a few bad habits (numerous some may say) but at the top of the list is my inability to read the small print. Failure to do this has left me stranded at an airport the size of a Texaco garage in Zanzibar; cost me £3000 for 6 week's accommodation in a tiny shared flat in Madrid, and in the most recent case, having to schlep up a muddy lane at 4.55 of a morning because the Small Child needed the loo. (In the rain, obviously, because it was Donegal). Now listen, I'm no princess (though LSB may disagree) but over Lockdown I was watching 'Sex and the City' and I scoffed when Carrie went on a trip with Aidan and was traumatised on account of seeing a squirrel. How I chortled when Miranda and Steve went on their honeymoon and she bitched non-stop because couldn't get on the Wi-fi. What she was whinging on about I don't know: she had a bath, FFS, and a mighty fine one too, with rose petals and ambiance.
I, on the other hand, arrived at the cabin I'd booked for Wednesday evening, busting for a pee, only to be told that the toilet was back up at 'Base Camp', a 300 metre walk up a potholed lane. WTF? I almost said, as it was chilly and we were only out of the sea at Rossnowlough. I was clad  in my blue and pink hooded towel over a damp swimsuit, and looked like a giant bedraggled flump. The directions on LSB's phone had seen us drive through Ballyshannon several times. If you've ever been to there you will know that as town centres go it's a bit tight in places and a tricky one to navigate. By the fourth time we drove up the incline of the main street my nerves were shredded. Leaving the town and driving out by the lake we ended up inadvertently CROSSING the border again, at which point I demanded that we pull in look at the directions properly. I attempted to find them on my phone while he nipped into a petrol station toilet to relieve himself. Out he came sharpish as a rather large woman hadn't locked the door properly and in he'd barged on top of her, prone upon the throne. He was a whiter shade than I'd ever seen him and was all for making a speedy exit but I was shouting 'DON'T GO ANYWHERE TIL WE HAVE THE RIGHT GRID REFERENCES!' The Sat-Nav kept trying to direct us into the middle of Lough Erne so we finally did the sensible thing and rang up, a cheery voice answered and directed us to the location, a mere 4 minutes away.
My mood was bleak, on arriving, to find that there was no mains connection to the cabin so after a mercifully hot shower, (also up at 'Base Camp') I had no way of drying my hair and no drier either ('Sure I wouldn't be having one of them things!' said Kiwi, the co-proprietor, in an accent that was pure Donegal via Deutchland, from whence she originally came.) I had planned on making myself look nice for the evening, applying my new Tropic bronzing serum and shaving my legs. None of the above happened, and nor, I suppose did it need to, given that I was donning jeans and my grey woolly jumper from Marks and Sparks.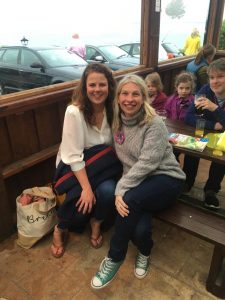 Anyway, it was all grand. We taxied out to Smuggler's Creek Inn where we met our friends and partook of gigantic bowls of mussels and scampi. There we made light of the lack of lighting and our total inability to work the wood burner, through the haze of several glasses of their splendid House Red, and the sheer joy of being out together, in an actual restaurant.
However, when nature called at 5am for the Small Child, it was all less amusing. Down she came from her little ladder hopping from foot to foot, which I clambered about hunting for shoes and a coat. In the meagre light of the solar lamp I could only find my 90 pence flip flops from Dunnes. These were no match for the puddles on the lane, and in my vest top I was quickly drenched. My mood, people, was bleak. The sheep had baa-ed all night and the rain against the windows was apocalyptic.
But, (and here is the funny part) in the morning, opening our little wooden door and wakening to verdant green of the hills ahead, I was quite uplifted. All thoughts (or almost all thoughts) diminished as a pale sun tentatively emerged. Donning sensible attire we headed to 'Base Camp' or the communal kitchen, where a basket containing fresh eggs, homemade bread and sausages and bacon awaited us. On went the kettle and good humour returned.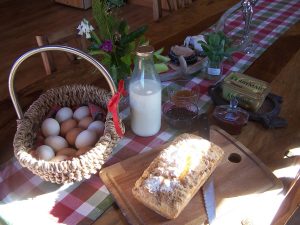 The owner Paul came in to bid us a good morning and we could have been there yet chatting to him, so fond is he of a good yarn. 'What you be doing coming to Donegal  without your wellies,' he laughed, shaking his head at the stupidity of townspeople as I bemoaned my lack of foresight in bringing a pair with me.
So actually, I would recommend it. It was homely (I suppose without the home comforts of mains electricity) and the girls were so happy: pooling about stroking the velvet noses of the horses and giggling as the wee collie tried to herd them up along with the ducks.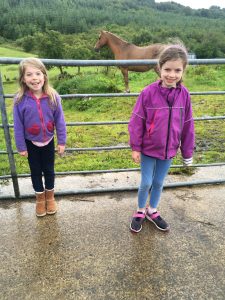 It was all rather lovely and reminded me of being little, trotting about my Uncle's farm when the rain didn't bother me in the slightest. And then, on coming home and going into the Airbnb app, I found it all. All the directions and all the 'small print' (including advice on footwear).
It was great. We're thinking of going back as I'm a wee bit taken with Donegal now.