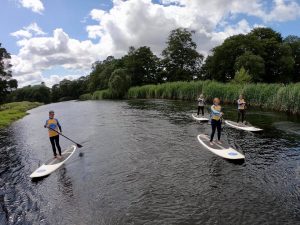 F**k me everyone, I don't know about you but you, but I am totally feeling the mental load this week. In some ways Lockdown was easier, wasn't it? Now of course I'm thrilled to be reunited with friends and the massage I got on Thursday was long overdue. But I was living there for a while with nowhere to be at a specific time and I quite liked that. Now the kids are pestering me constantly to have their friends around and the door is going steady and it all feels a bit 'full on' after 3 months of near hibernation.
I also had a couple of deadlines and god-awful forms to complete which turned my brain to a bowl of savoury mince and when I got those finished I looked around the house and clutched my heart. The Mothership called up on Thursday and ventured inside for a few minutes as she's still 'wary about enclosed spaces.' Well, she was certainly wary of mine and retreated to the patio area sharpish.
'I've never seen the like,' said she, as she tried not to trip over the greyhound while walking backwards. 'It looks like that time your brother thought we'd been burgled'. She was referring to the summer of 1999 when I moved back to the family home in Bangor and the next day headed off to Montreal with my parents for a holiday. My brother came home from an evening out and seeing my bedroom door ajar and the chaos within, he got straight on the blower to Canada to check that it was in that state of chassis BEFORE I left and that some intruder hadn't ransacked the place while he was at the pub.
The problem is that I haven't been able to chuck out all the kids' home-schooling stuff because I harbour notions of still doing a wee bit occasionally. (Twice. I've managed this TWICE in July because they make their opprobrium known in such a high pitch that my inner drums tingle and my temples throb.) Kids are melters, aren't they?
They prefer to spend their days creating dens for themselves and the dog, so blankets and cushions get trailed outside and back in again covered with little bits of detritus from the garden: twigs, leaves and once a large slug which had attached itself to the underside of a plastic chair. I was near sick. The slugs up this way wouldn't look out of space on Ridley Scott's Alien: they would turn you.
But happily, I had respite planned…. The other day I met my friend Martina (of Harper's Yard fame) and she mentioned that she had a paddling boarding trip to Limavady on Sunday. So I just invited myself along. In times gone by, I would have been self-conscious about doing the like (both inviting myself and heaving my less than svelte form into a wetsuit) but this new me doesn't have the same scruples.
I tried stand-up paddle boarding (SUP) in Spain once but only managed to stand up twice on the chippy choppy waves. I had all the poise and balance of a blancmange. So what I recommend is to start on the river. The water on the Roes is brown and coppery in hue, the iridescent blue of the Costa Brava it is not. But man, it was GLORIOUS. With the verdant reeds on either side and the cliff face of Binevenagh Mountain as a backdrop, it reminded me of kayaking in New Zealand's South Island. And our instructor was SO utterly in love with the area. This is where he grew up and this was the river he learnt to swim in with a proper old-school rope swing with a tyre. He was so keen to show off his homeland to us, this little corner steeped in history. I want to go back and stay in a pod, pop the kids in kayaks and pootle about in the water like Mole and Ratty from 'The Wind in the Willows'.
So, if like me, your pickled brain is crying out for some tranquillity, perhaps you need to hit the reset button and hop onto a paddle board. It doesn't have the same adrenaline rush of surfing, but I've enough tumult in my life at present, and can live without being swooshed up the face with a wave and swallowing mouthfuls of salt water. Some days you need the meditative calm that paddle boarding brings, and if you're new to it, then this is the perfect place to start.