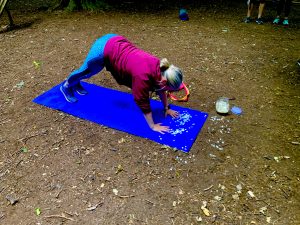 So it's July, apparently: the arrival of which heralds that instead of taking the kids to school, I've to trail them off to various summer camps instead. In an effort to expose them to a range of edifying experiences, I have them doing arts, water-based activities, even at a camp for 'looking after donkeys, (introductory level)'. All these start at different times and inevitably I will get confused and end up standing at Seapark in Holywood some morning with tennis rackets at ten am when I ought to have been at an art camp at Rosetta at nine. I'll telling you, it's bound to happen. At least I don't have to go to work myself, which is one small bonus, but then again I won't get paid either, which isn't so good.  Basically, my head's just a different type of mashed than usual.
Balance- that's what we all need. We need to create some good memories and carve out time for ourselves to cancel out the shit-show that has been. That's why I headed off to Belvoir Park Forest this morning with a yoga mat under my arm, to sit under a canopy of oaks (or they might have been beeches or sycamore, my arboreal knowledge is limited) and took some time to myself under the instruction of the very lovely Treasa Rosato.
Do you know what I miss about staying put over the holidays? It's the sensory deprivation. I know that sounds silly, but I associate places with smells. With Africa it's always the woodsmoke; with France it's the warm, sweet smell that wafts from the boulangeries, and with Spain, where I've been more often lately, it's the particular scent of the hot tarmac which hits me the second I step out of the plane. I miss it all.
But this morning, Treasa was all about stimulating our senses, and her attention to detail was exemplary. She lit a citronella candle and incense sticks to ward off the bugs during our practice. She had gathered rose petals and popped them into into a glass jar, and she invited us to take some. We dipped our noses in our cupped hands and breathed in their delicate, delicious scent, before sprinkling them at the foot of our mats so we could get a whiff during our forward folds and downward dogs. She encouraged us to take off our shoes and socks so we could feel the forest's ferny floor (as the poet said) against our skin, after which she sprayed our feet with a mixture of tea-tree  and peppermint oil.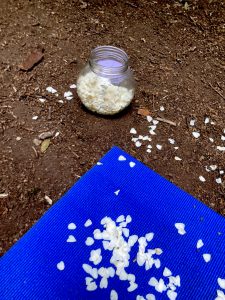 We perfected our warriors and trees poses, rooting down to rise with extra concentration than usual so we didn't face plant the floor because we'd stood on a stood on a stone.
Lying back on our mats we took a moment to look up at the canopy of trees overhead; taking in the different hues of green, shot through with effervescent light. In the distance church bells chimed and dogs barked and magpies chattered.  It felt wonderful to be outside, with real people united in a moment of calm.
If you too, could do with a dose of serenity, might I suggest that you give Treasa a follow on Instagram and see when she's doing one of these sessions again. After this year, we gotta replenish ourselves how we can, and start grabbing on to every bit of joy within our grasp. Given that experience this morning, there's a marginally higher chance that I'll be at the correct drop off point tomorrow.