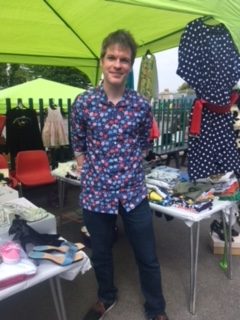 Another week, another eco-friendly endeavour!  This time I'm harassing people to part with and then buy some new outfits. Just in time for summer!
My friend and I signed up to be joint chair of the PTA at school, which was about 20% altruism on my part and 80% as opportunity to push my environmental agenda. We started off by creating a new stall at the Summer Fair. I sent out notes and before I even admitted to them, a few mums Whats-Apped me saying 'we know you're behind this.' It was, of course, a pre-loved fashion stall and I exhorted kind parents in the school to donate any of their quality used frocks for a good cause. All proceeds went to the PTA, and hurray, hurrah, we made over £125 on the day.
We got well toasted, standing around in the heat, and dare I say it a trifle tiddly too, because there was a prosecco and a gin stall. I'm not kidding. (Wouldn't happen in a Protestant school, heck no. Far too much craic would be had. Coffee and a tray bake; that would be your lot there.)
It was pleasant, standing in the sun, Bombay Sapphire in hand, flicking through the rails of gorgeous spoils. There were tops by Karen Millen, dresses by Ted Baker and coats by Tommy Hilfiger and Max Mara. They are generous bunch at our school, (or maybe they are just minted) either way, I'm not complaining. In a panic I sent a message to my friends the night before to see what they had on the go, and my pal, the fabulous Jane Kelly, raced home from her work at lunchtime to do a quick raid on her wardrobe. One of the frocks never hit the rails I'm afraid as it was pure McClements. In went my fiver and on went the dress.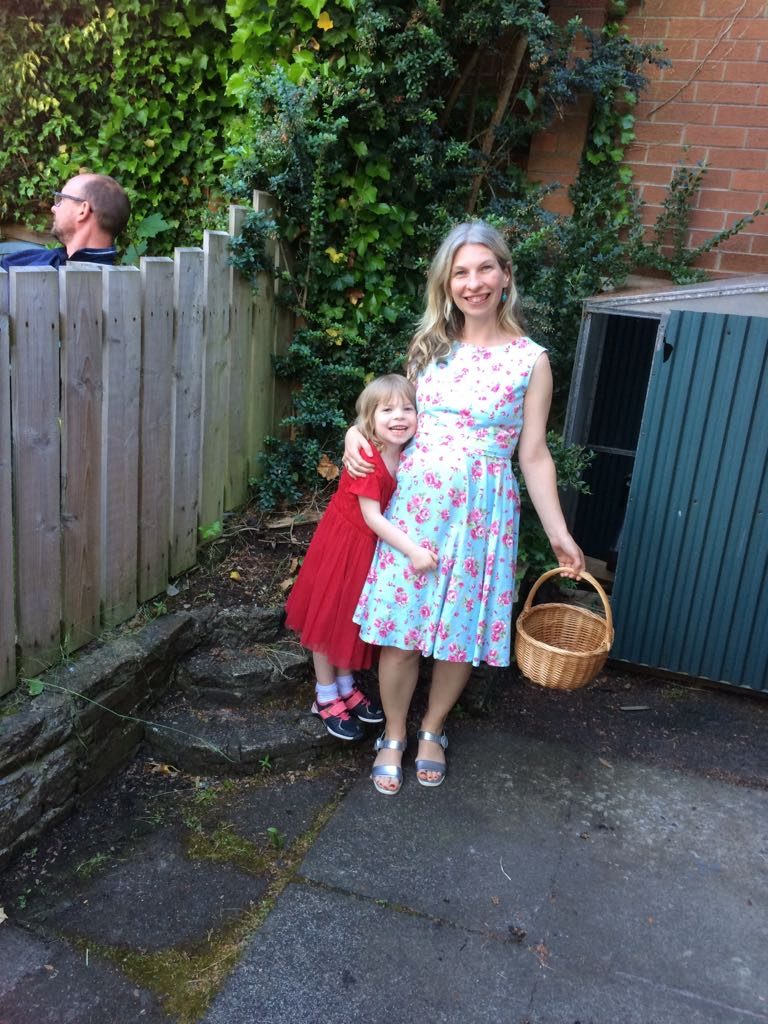 I was lucky to have my right hand man on the stall, in the form of LSB. I was worried he'd feel as though he'd had his testicles lopped off with a shearer, being put to work in female fashion for an afternoon, but I was very, very wrong. He was in his element, channelling his inner Del-Boy, or Gok Wan. 'This would be terrific on you,' he said, waving tops in front of potential customers.  'Any formals to go to? Weddings? This dress has a matching handbag and bolero.' He didn't even have any gin (someone had to drive) and he was in quare form. Later on, when it came to dismantling gazebos he got to show off some muscle, so any doubts over masculinity were restored.
Anyway, I can recommend this as an excellent way to bring in some lolly for your PTA. Everyone likes a bargain and we all know we accumulate too much stuf. Better to share and root out your old threads. We're having one last go today at a 'pop up stall' at school to see if we can shift any more items. I must say, I'm quite enjoying myself at this lark.