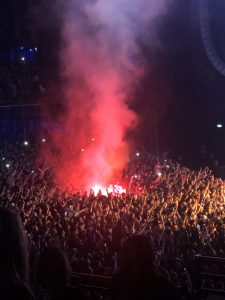 Months ago, LSB booked tickets for Liam Gallagher. 'Liam? Really?' I said. I'm not very keen on Liam, because I think he is a gobshite. Noel, I can tolerate, not least because I love his latest album, particularly, 'Holy Mountain', with yon French woman using the scissors as percussion. Listening to an entire solo Liam album would put years on me, and LSB has been instructed to remove any such items from the CD system in the car, lest I stumble across it and drive into a wall to put an end to the agony.
This has been the most busy, frenetic of weeks. We came to Dublin last Friday too so I could hear Elizabeth Strout's talk on her latest novel, 'Olive Again.' I had aspirations of writing about this, and I still haven't managed to do so. I am however, half way through the novel and left many things neglected in order to do so. It is a marvel.
'But FECK,' I said. 'Away again, so soon? And to be doing so just to see Liam Gallagher? Me nerves!' I got myself into a right state of agitation.
'I see your Tourrette's is back,' sighed LSB.
I had various reservations. Liam can attract a loutish crowd, and at 40 years of years my face is already past its prime, and a headbutt in the eye isn't going to improve it any. And as I said, I don't much like his solo stuff, and that I know I can eff and blind like the best of them but he makes me look like Mary Whitehouse.
I express these concerns with LSB and he is remarkable sanguine- he knows I have been STRESSED TO F**K this week, because I have repeatedly informed him of the fact.
'It's ok if you want to leave it,' he says, even though by now it is Saturday morning and we would have been stung for the accommodation. 'But we will get a good dinner and I think you'll like the hotel. It might also be nice to get away from the children,' he adds, hopefully.
'Ok,' I say, sighing deeply, like the miserable old bastard I have become.
But when I hop in the car and for the second time in as many weeks zoom over the Hillhall Road, I feel a peace descend as we put distance between ourselves and the chaos of life. We listen to Giles Peterson on 6 Music and the smokiness of the jazz and the whoosh of the wipers works some kind of hypnotic magic; (on me, not LSB, who thankfully focuses on the road ahead).
By the time Himself deposits me at The Spencer Hotel and goes to find parking I feel almost mellow. After a cocktail called 'No Name' I feel mellower still. A man comes up to bar and orders a Porn Star Martini, a Guinness and two Club Oranges. 'Take that to your mum, he says to his small boy, 'AND BE CAREFUL WIT IT!' The child carries the Martini over to his Mum with great reverence, as though it is The Holy Stone of Clonrichert. A grand job he makes of it too.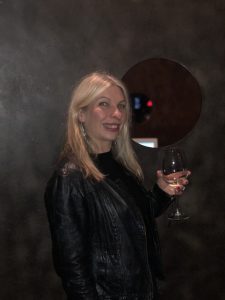 'I need to train mine,' I think to myself. The Older Child, in her constant state of excitement, would have had it fucked over the floor or some innocent bystander in 3 seconds flat.
I'm in fine fettle by the time I've eaten a dish of Cambodian ' Cha Traop Dot' in the East Restaurant and sampled their house Pinot Grigio, which came highly recommended and is a change from the Sauvignon Blanc I usually glug.
I think,' I say,' leaning over to LSB with a conspiratorial air, 'that I may actually be looking forward to this gig now.'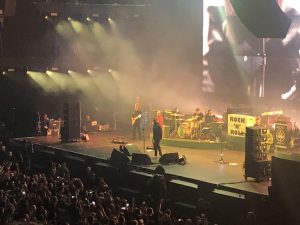 'Yes!' he says beaming, almost punching the air because I've been so glum of late. 'Let's go then!!'
We trot off to the 3 Arena and join the queue for the seated area, where everyone looks our age or older. It appears hooligan free, which is a relief. Behind us a woman is discussing her dilemma about what to buy her third God-daughter for her First Communion. 'It was easier for the first two, but these are different times,' she says perplexed.  I catch her eye and smile. More rock'n roll is her next conversational gambit: 'I was FUCKED after those mushrooms we did the other week. How were you after them?' she asks her mate, a lady of a similar vintage. 'Not good. Not good at all,' she replies, shaking her head. Confusing times indeed, I think.
You have to just accept some things when you go to see Liam Gallagher. No matter where you sit, some frigger is going to chuck a pint over you. I mean, obviously, why pay €6 for a pint if you're not just going to heave it into the crowd?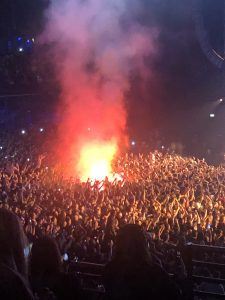 And it's not just the flying pints of Heineken you have to worry about. Flares, apparently,  are now a thing. Huge, f**k off flares. I'm telling you, if they'd had these fellas on the Titanic, The Carpathia would have been over in a jiffy and lowered the rate of casualties  drastically.
Some clampet sets off a red one which he then proceeds to drop. From our vantage point above the standing area it looks like the mouth of Hades has appeared and is having a good yawn. Still, nobody seems too rattled, aside from me, obviously.
'Burnt alive!' I say to LSB. 'We'll be burnt alive, at a Liam Gallagher gig! What a way to go!'
Liam is on to it. He's none too pleased after a fan in Sheffield last week had her clothes set on fire. 'I don't want to be busting your bollocks, he tells the crowd, ' but you need to calm the f**k down with them things.'
Who would have imagined that they'd ever have to listen Liam Gallagher doing public health announcements?
On goes the gig. I am up out of my seat and dancing  along to Wonderwall and Roll with It. Singing along too I am, arms aloft. Very taken I have become with the whole affair. I am almost in tears to Champagne Supernova and by the time he comes on for the bonus encore of Cigarettes and Alcohol I'm like that mad auld doll in Father Ted (only without the casual racism).
'He's good value, that Liam Gallagher,' I tell LSB as we stroll back to the hotel, hand in hand along Mayor Street. The crowd were pleasant too. A large chap from Tallaght engages me in a full on chat about recyclable toilet paper. We compared notes.  I swear to God, you couldn't make it up.
I come down to breakfast the next morning and I'm humming 'and maybe, you're gonna be the one who saves me.' I am still grinning. Do you know, honey,' I say to himself. 'I'm really developing a love for the south.'
'That's good dear,' he says. 'Now you just have to convince all the other Prods up North.