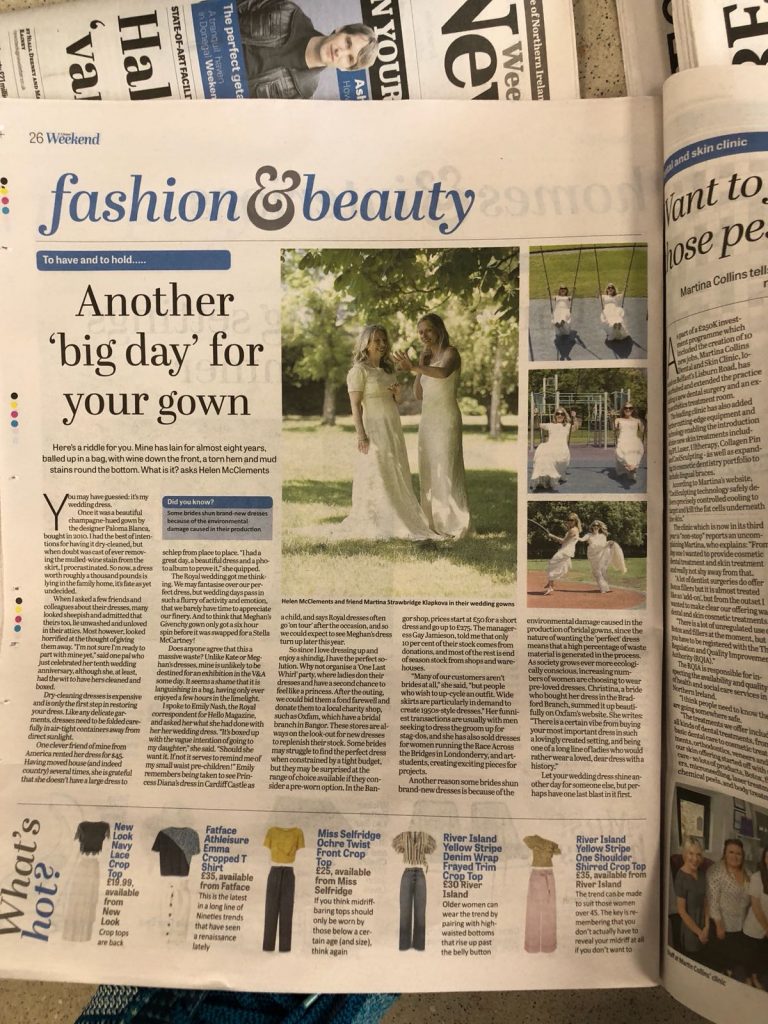 Did you know that Belfast has 3000 acres of parks? No, neither did I, but Chris Hawkins on BBC 6 music this morning, has just given it as a 'fun fact' about Belfast . Given how much time I spend in the parks, and Ormeau in particular, I feel I ought to have known that. But it's another reason why this is such an amazing city in which to live. Parkruns, fun days, rose weeks, orienteering: it's all happening, and if people aren't chucking lit BBQs into bins (this actually happened in Lady Dixon last week and the Fire Service had to get involved. FFS, Tracy) it's all good fun.
On Wednesday, I roped my good friend Martina into digging out her wedding dress and popping it on for a photo shoot in Ormeau. ('Thank you very  much', her dress said, 'it is nice to be released from the SHOE BOX in which I've been stored for the last 10 years'). The wee kids in Parkside looked on agog as we played on swings and frolicked on roundabouts. I actually, no word of a lie, didn't want to take my dress off. The sheer heft of a full length gown is something we rarely experience; there's a heft to it which somehow grasps the weightiness of the decision to get married. It's the real deal, getting hitched, and putting the dress on again made me relive choosing it and that sense of excitement and promise.
So I've come to a decision about what to do with my dresses. The pearly frock in the photo above is staying, and the kids can play in it and if it's worth salvaging by the time their big day comes, they can do with it what they wish. And the other gown gown, in which I actually said 'I do',  is going to be repurposed. How, I don't know, but I've been to Bangor and brought it up to Belfast where proceedings will begin post-haste. I'm thinking of having to shortened and dyed, so I can  wear it out of an evening.
I've loved gathering stories about dresses while researching my article, and loved what my friend Helen did with hers, donating it to Oxfam but keeping her veil which she has lent to pals as their 'something borrowed'. What a gorgeous idea. My oldest child has been running round all weekend wearing my tiara, and it's rather lovely. I'd love to think of it being worn again on a special day.
And while I'm talking weddings, I'm getting political and saying that I'd like to see the same right extended to our gay and lesbian friends here in the North of the Ireland. One couple close to my heart have been together 23 years and refuse to get married until they can take their vows in the City Hall. I hope this happens soon, and they know where to come if either of them wants a tiara.
P.S. I've finally dragged my ass out of the dark ages and can now be found on Twitter and Instagram. If you'd like to follow me, jump on board and share some pictures and ideas.