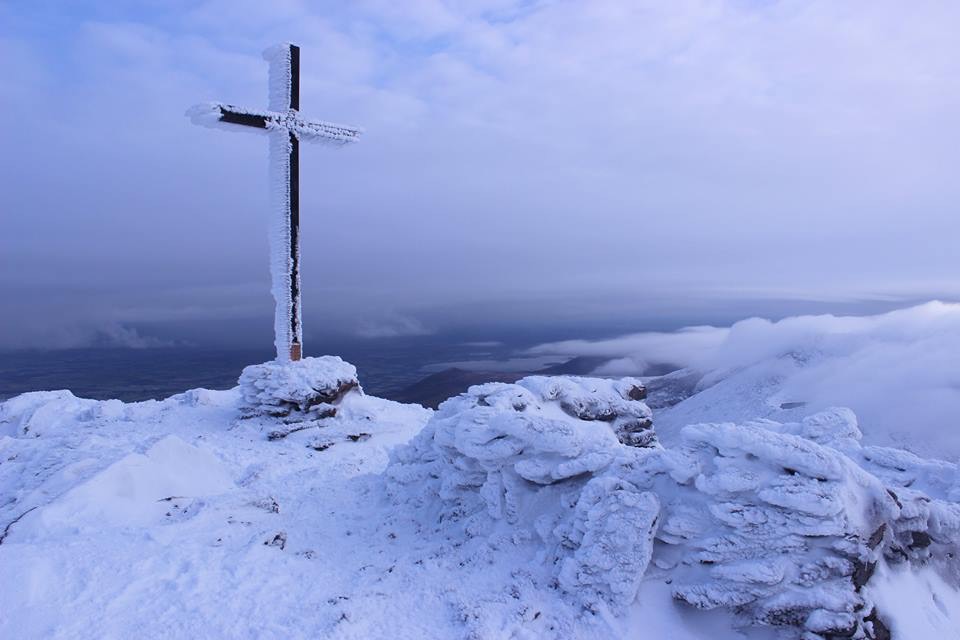 At significant times in my life with LSB it has snowed. Heavily. When we announced our plans to marry at Christmas in 2010, the Mothership was immediately resistant to the idea. 'What if it snows and guests can't make it to the day?' she muttered. 'Putting people in mortal danger. Not on, in my book,' she went on.       'It's never that bad here,' I replied, dismissing her concerns. My mother is prone to hyperbole. Well, wasn't I in for a rude awakening. That was the Christmas where the weather was so inclement that the pipes froze and emergency water had to shipped over from Scotland. Guests arrived in their finery to our wedding having had an all-over wash with baby wipes that morning.
We were to see plenty of baby wipes in the two years that followed. When our second daughter arrived in February 2013, I was looking forward to taking her our for a stroll in her Uppa-Baby, when the heaviest snow in my lifetime hit Belfast. In our Four Winds micro-climate, we were completely cut off. Forays to Sainsbury's were an expedition which necessitated snow boots, and skis would have been the more expedient option.  Optimistic guests came with baby gifts only to find themselves in an Arctic Tundra, unable to get up the hill.
And this week, we face a horribly new phase in our lives. The loss of a parent. LSB's mother, who had taken ill in January, passed away on Monday. And the snow came, this time with its full Arctic blast, as if to reinforce our feelings of shock and disorientation. We weren't ready for this. Anne had been ill before, but a defiant and resilient spirit meant that we were  convinced that she was going to stick around for a while.
In the same week that saw the small child's fifth birthday, sympathy cards now jostle with birthday cards on the mantle. Decorations were erected on Tuesday for a small party for her birthday, and taken down last night so we could take soup to warm us after the funeral service and the cremation. I was tempted to leave the mint green and peach bunting up as I think the mischievous streak in my mother-in-law would have approved. Garlands for Anne Garland would have been appropriate, but in the end decorum won out. We will grieve when it is the time to grieve and later we shall celebrate her love for this family and her indomitable spirit.
So all feels odd and strange and more tenuous than before. But what remains despite the sadness is the warmth of the people who surround us. The phones which have buzzed, not just with good wishes but with practical offers of support, of which we have not been too proud to avail. Our beautiful girls have been minded; we have been fed and cheered and comforted and this has quelled the emptiness in our hearts.
Anne would have been thrilled f she could have seen how it went today, and what a stellar show was played out in her honour. And somehow, with the tingling glow we felt despite the sadness, I think she may well have had a inkling.
(LSB found this beautiful photo of Carrauntoohil on Twitter. It was from today, but we have no notion who took it. Fair play to them, it's perfect.)