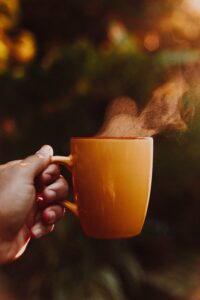 ALEXA TURN OFF! That's what I've been yelling at half-past the hour, every hour, because at home we listen to Radio 6 Music a lot and that's when they broadcast the news.
I can't hear it anymore – I get all shaky and sweaty and to my considerable shame roar obscenities in front of the children and have to then apologise and claim that everything 'is ok.'
Everything is not ok. Everything's shite, and every morning upon waking, I wonder what fresh hell awaits. Are bombs going to continue to rain down on Gaza? Will Hamas release hostages? Will Egypt open borders and does anyone in the Gaza Strip even have anything to eat or drink? Then selfishly, I wonder how the destabilising of the area with impact the rest of us, and I fear a terror attack; a nuclear bomb; World War Three.
I've been drinking quite a bit of red wine. No, it hasn't helped.
But, also this weekend, we had a coffee morning and sale at the Quaker Meeting House. We were raising money for Shared Threads, the charity which was the brain child of my friend Kirsty King. We make pads from towels and leftover fabric and send them to India, Uganda and most recently to The Gambia. Kirsty has set up links with NGOs to ensure that every pack is delivered with education, to reduce period stigma, and help girls get to school. But we need money to buy the waterproof material for the pads and clean pants for each pack. Postage is increasingly costly too, to send off the boxes, so it all mounts up.
I didn't know how many people would come to the sale. We asked at the Chelsea Wine Bar if they'd let us pop up a sign as they're at the corner, but they said no. A few other places said yes though, and Robert, the producer on the Frank Phone-In, let me announce it there too. Readers, we made £1200.
My friend traipsed up from the Ards Peninsula, another came from Greenisland and brought her family. Friends brought friends. Joy in our group must have some sort of industrial vat at home and she made ALL the jam to sell. Emma sews and had a stall of lovely things, and the Small Child and two pals paid for a stall to sell their bracelets. My friend Aileen said her child was more excited about the event than she'd ever been at Christmas. They're great wee workers and talented too- I'm hoping they keep me in my dotage.
The Quakers. They're a fine bunch of lads. The KINDNESS of them, allowing us to use their space, racing into the kitchen to help us wash up, baking us mountains of cakes and buns. And the light. The morning was grey and bleak and rainy and I thought 'F**king  typical.' Then the sun appeared, beaming into the hall and lit the light within me too and I felt better.
Brian from Boden Park Roastery gave us coffee for the day and some to sell. He wouldn't take a penny.
I popped down to Corrymeela in the City tonight, because their posts on-line all week have been the only thing that have made sense to me, and brought comfort. One member spoke up and said something to the effect that life is hard and full of mess, and all we can do is make our way through it, with as much care for those around us as we can muster. It is horribly messy right now. But there is hope, and there is goodness, and thankfully in Northern Ireland, we don't have to look far to find it.