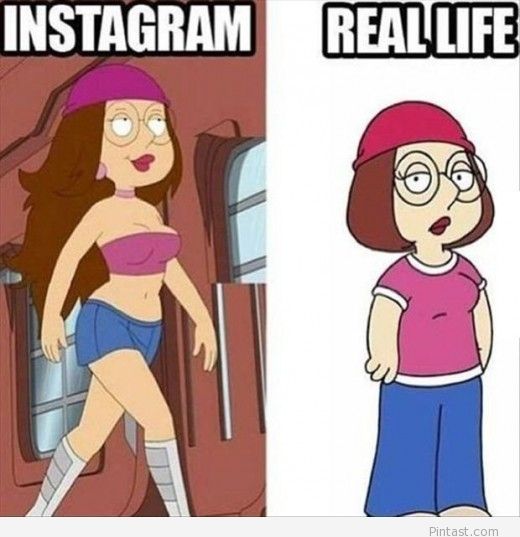 Help me readers. How do I manage Instagram? Because I'm flipping lost. I was never a great one for taking photos: in fact, lazy bastard that I am, I was always happy for OTHER people to do the snapping, so I didn't miss out on the moment. I always wanted to be DOING the activity, not living it second-hand through a screen. But some of my lovely friends thankfully would take pictures and even print them out and send me one, and for these I was always grateful.
But now, I don't know where to draw the line. I write a blog, (doh, obviously) and I've found that Instagram is a great way to draw people to it. But my blog is about the writing, not the visuals. I feel like I'm selling my soul on Instagram- (Here's me! Check out my new blog post!) Boke. But it's just what we do now, or so it seems to me.
And the notion has got into my head now, so much so that I'm thinking: I'm having a coffee, should I take a picture? #Chillingout. Here's a sunset, #beautiful. Here's my child eating brunch, #Howcuteisshe? And not forgetting my pet peeve, #blessed: it's so saccharine it makes my teeth hurt. I find I'm not enjoying where I am, because I feel I SHOULD be documenting the activity, and that feels like work, not the lovely downtime it should be. On Sunday I visited my friend and her two gorgeous twins. She baked an Apple Cake and handed me a huge earthenware cup of ginger tea to help my cold. I felt spoilt and cherished and also like I should be FECKING Instagram-ing it. I didn't. I let it pass and we chatted instead. But it's always there, this FEELING that I should be going clickety-click, and God help me: 'building my brand,' as my PR friend recommended.
'Brand?' I said, 'What brand? I'm not bloody Cath Kidson!' (Just pop over to Sour Towers to see just how un-Cath-Kidson I am).
'But you are,' she said. 'You're Sour Wee Bastard, and whether you like it or not, you're branding yourself. And since Helen McClements and SWB are one in the same, that's you. You. Are. Now. A. Brand.'
She's a funny one, my friend.
Gulp. I didn't like that one bit. I'm me, and I write and hopefully people will read my stuff and ONE DAY I might even write a wee book. But a brand? Hell no.
One of the things I DON'T like about Instagram is that it can seem, a bit, well, smug. Funny enough, I never mind posting about my eco-issues because that's important to me. I can live with a smiling selfie of me if it's getting the message out there. But when my kids were small and the idea of a holiday was frankly impossible, I used to almost weep with RAGE when I saw Facebook pics of people who were having a glorious time abroad. Oh yes, self-pity was at an all-time high when we were at home because LSB didn't have any leave left and I sure as hell wasn't taking two toddlers away on my own. I'd hate it if I put up pics and they made someone feel shit. 'What has she got to be sour about, sitting there in Kaffe-O?' they might say.
So I  have a a whole rake of pictures on my phone that I ruined a moment to take, and then haven't even bothered to put up. Last week I spent a gorgeous night away with my pal, and we hiked and stayed in the Slieve Donard and thoroughly pampered ourselves, and then I didn't share any pictures because I felt bad for being away in the first week of term when my teacher friends were back at the chalk face. Maybe I need to soothe my soul by taking some 'real' photos of me, like un-blocking the loo (who am I kidding, that's LSB's job) or scrubbing the grill or cleaning out the cat's bowls. Would that address the imbalance?
Truthfully, I don't know. But keep in touch and tell me your thoughts on this.
Even writing this has helped me figure a few things out. It's all about where you are in your life, isn't it? Since my career change, and the corresponding  improvement in my health, I don't mind looking at other people's pictures. I'm happier now in myself and I don't suffer from the same anxiety. A few years ago I was the embodiment of a raw nerve: Ms Kill-The–Craic. I feel better now, and maybe it's ok to show that.
Speaking of which, here we are, grinning inanely in the Mournes. #childfree #carefree #blessed. (I'm kidding about the last one, though I know we're very lucky.)