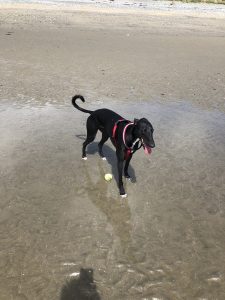 I think my husband may never request a long weekend off work again. The man's demented. Every five minutes there's either a person or a pet annoying him. The poor fella just wants a sit down and I'm all 'STE-vey' (he hates it when I place the emphasis on the first syllable as he knows I want something).
These things  can be as diverse as driving us all to Templepatrick to pick up a greyhound, or schlepping off to Killyleagh for a kitten. Often they're as banal as asking him to fix my Mac when the fan is making a noise similar to an Airbus 777 during take-off.
He's started to pre-empt me. 'Does this involve a trip to a garden centre' (occasionally) 'Does the dog need walked?' (sometimes) Do I need to nip to the Vineyard?' (definitely).
Today I was on about home décor, both inside and out. 'We need a chiminea,' I say, 'that's a must this summer.' Last night a friend hosted a soirée and it was a glorious affair altogether. She has transformed her garden into a cosy utopia for sipping wine of an evening, toes toasty under a woollen blanket with the smell of woodsmoke in the air. Homemade samosas and tandoori chicken- I'm telling you- she sets the bar high, this one. It could shame a person. Another friend has done the same: Lockdown has unleashed her inner Monty Don and she plies you with fruit punch before sending you home with chard and lettuce as part of your five-a-day. Her fire pit is a delight. Our garden has no such merits. 'Come here and pray the sun comes out or you'll be ball-froze,' we might as well say.
Thus, I was on about outdoor furniture, buying a new selection of bedding plants, painting the fence and the aforementioned provider of warmth. It doesn't matter how fragrant your French Marigolds are if your guests are foundered. 'Hillmount's open until five,' said he. 'But you're on your own.' At this point he'd already driven to Murlough and back, via Castlewellan and understandably wanted a rest to himself. It's no joke chasing a greyhound the length of the beach when she's spotted a cocker spaniel with whom to frolic.
So I sat down with a cup of tea and the Guardian Weekend Magazine, and weren't they doing a wee feature on creatives during Lockdown. So that was depressing. Seriously, if you ever want to feel inept, open the bloody Guardian. You have the 'Experience', where someone has wrestled themselves out of the jaws of a crocodile and now works with amputees in Rwanda. You have Tim Dowling who can make a three mile bus trip wearing his fave mask sound entertaining, and THEN you have this crowd, within whom the confines of Lockdown has fired the flames of their artistic talents. One woman has been painting the beams of her 16thcentury cottage with her homemade cardboard stencil. This is but a trifling endeavour for her, given her usual endeavours, but only because she's had her 9 week old baby attached to her person with a sling throughout. I mean COME ON. When my first born was 9 weeks I considered it an achievement if I showered before midday. Some days I celebrated the event with a M&S caramel square and a cup of tea, before attempting to have a nap before she woke up again.
With this fresh in my  mind I wandered into the front room which is a sadly neglected area. When we moved into this house we loved our living room. Our kitchen was tiny, so we ate our meals in front of the TV and I stared out the window at all the neighbours when I was heavy with child and unable to move.
Then we built the extension and it has become the 'turfing area' where toys and a defunct table football languishes. The huge dog crate adds a certain 'je ne sais quoi'. The sun has faded the sofa and chairs and piles of games and papers gather in every corners. (What IS IT with me and cluttered corners?) It has become a source of embarrassment because it has tremendous potential.
Hence there I am, googling feature walls and pestering Himself about whether he could paint the boring Ikea book shelves in hues of glorious pink to add a bit of oomph, or if I should contact a painter.
'STE-vey…' I begin, but he's disappeared. I find him upstairs asleep, with the dog at his feet, the two making happy snorting sounds as they exhale. 'Ah feck it,' I think, and lie down beside him. The children are playing with their Lego. Quietly. You have to seize these moments. Sure no one really comes into the front room anyway, so where's the rush?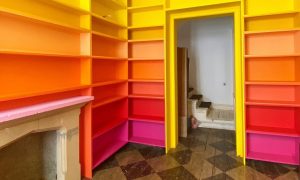 Myerscough's new bookshelves. Photograph: Courtesy Morag Myerscough