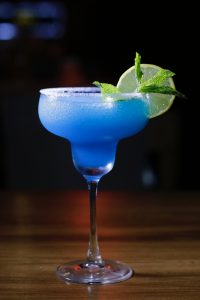 It is Saturday night and I am perched at the island in the kitchen, sipping a Margarita that LSB picked up for me at The Errigle, and doing the Guardian crossword. I'm dressed appropriately for date night, which means I've donned my leather skater skirt and I've applied blusher as well as a light dusting of powder.  The joy of date night in the HOUSE means that I can wear lipstick, without smearing it all over my mask. I can also pop in my earrings, without the worry that I will trail one out of my earlobe when taking off my mask on the way in to a restaurant. Masks are a f**king menace aren't they, aside from the fact that one might just save one's life: which  should, I suppose negate any aggravations about aesthetics. I'm also wearing my slippers, and don't have to wear tights. I hate tights; scratchy annoying things that they are. What's the point in slathering on my Tropic leg shimmer, only to hide them behind a pair of Sainbury's opaques?
The other good thing about date night in your house is that you can sit, while your husband makes you an aubergine curry, and read the Guardian Weekend Magazine. Over the last lockdown, I felt myself grow more and more Guardian as the weeks went on. I identified with just about everything Hannah Jane Parkinson wrote. The week, she documented how, in a fever of  spring cleaning, she took a tooth pick to the scum between the tiles in her shower. The day before, I had been caught wielding a cocktail stick, prising crumbs and grime that had lodged around my recycling bin. She felt a huge sense of achievement, and I concurred heartily, having felt a similar surge of pride myself, at the sight of my pristine bin. In the column the following Saturday, she mentioned the unexpected joy of a finding  a slab of sponge cake on her doorstep from a kindly neighbour.  I was only after whipping one up and sandwiching it with cream and jam, and was thinking I might deliver a piece to my mate Maggie who always gives our dog treats. Hannah Jane likes people who demonstrate their love through the medium of baked goods, and who couldn't concur ? Friends who show their love by handing you a Tupperware bowl of roasted vegetable risotto should be forever cherished. We could be great mates, Hannah Jane and me. We share a love of unusual words (we agree that petrichor is one of the best ever); we are delighted with ourselves when we manage to run a measly 5K without having heart failure, and we are both stricken with similar bouts of apocalyptic dread. All these endear her to me immensely.
Another journalist of whom I am fond, is Hadley Freeman, and she grabbed my attention in her article this week which was about her fear of eggs, which borders on the pathological. LSB has a similar phobia, and like Freeman, has been known to leave the room, when the children start bashing the top of their boiled eggs with a spoon. It's most irksome. There's me, stumbling across something that the children will actually eat, and the second they crack open the shell, off he f**ks up the stairs, with a face on him like a truculent toddler.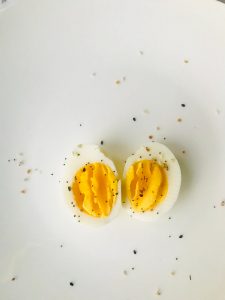 So far so good, until I read about  Tim Dowling, who admitted that he'd been off the booze for 3 weeks. Three fecking weeks! Well, I was raging: I selfishly want everyone to be in the downward slide into semi-alcoholism as me: solidarity is what I'm after from my print companions, not declarations that they've all gone sensible. Still, he admitted that he still feels rubbish and irate, hence is none the better for his abstinence.
This morning alas, as I woke at 5am, feeling as though someone was trying to open up my skull from the inside using a crowbar, I concluded that Dowling perhaps has a point. Date night is all well and good, but in the pub you would limit yourself to one tequila based cocktail and not feel that you had to finish the can which contained four servings. Damn it Tim, but I may have to jump on that wagon with you.