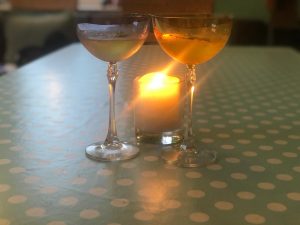 No flipping way, I thought initially, if I'm ordering in, I want it to arrive hot and ready to eat. I don't want to have to light my oven and read instructions and potentially wreck the expensive dinner before it's even hit my plate. No, I thought: until it is deemed safe enough to venture out again, I will stay put, and enjoy a meal without the risk of butchering it.
For me, eating out is about the escapism. It is leaving behind the carnage of my house and obviating the need to clear the table of accumulated ephemera. It is the wine list and the joy of choosing a wine to suit each course, if one is making a night of it. It is sitting in the window of General Merchants and Shed and seeing friends walk by who may even pop in and say hello, or the munching of chicken wings on a cheeky mid-week outing to the Northern Lights.
It is not a van drawing up outside your house and handing you two brown paper bags at three in the afternoon. Except, last Friday it was, because this is lockdown and needs must and the thought of eating my own fecking food for another consecutive night had me sourer than a Free Presbyterian stumbling in on an episode of Normal People, and on a Sunday too.
Someone on social media drew my attention to Taste & Tour and happy days, they were delivering, and wasn't it Indian themed, and I am partial to an Indian. But I am also (and here's a surprise,) a very FUSSY connoisseur of Indian cuisine because when I lived on Reunion Island we had Indian landlords, who would occasionally drop us in fresh samosas and the odd goat curry. I have since found it hard to countenance the dishes to which one is often subjected here, with all the gloopy sauce and mounds of green pepper. Why do takeaways INSIST on shovelling green pepper into everything? Nigella Lawson says they are an abomination and I'm inclined to agree. Bitter and tasteless but much cheaper than their red counterparts, hence their popularity, I suppose.
Feck me but don't I digress?
Back to Taste & Tour: flipping gorgeous it was. My fears were unfounded: there's actually fuck all to do. It arrives, like any normal takeaway, but requires heating. So on went the oven and in went the starter and main. LSB did this, while I ran up the stairs and fired on nice top and skirt and some lipstick. 'Aww would you look at you!' said he when I reappeared, delighted to see me out of my rotten old active wear.
Up at the breakfast bar I perched and he opened the pouch of East India Gimlet and shook it over ice. Yes, these guys provide a cocktail in a pouch. To be fair, when I saw the menu I was like, chickpea starter, hmm, lamb biriyani ok so, but then my eyes lit upon the word COCKTAIL and I was all, Feck! Yes! Get it ordered! It was aromatic and zesty and given my swift descent into gentle inebriation, fairly lethal too. Down the hatch it went, sharpish.
'Ding' went the timer and the first course was ready. I'll be honest. A few potatoes and some chickpeas done with tomato and spices. I was not initially enamoured. But, when decanted upon the plate with the yogurt dip, mint & coriander chutney and pomegranate seeds, it was sensational. And this is when it suddenly became a restaurant sort of experience because I became all poncy going 'Do you SEE how the freshness mint brings out of the spiciness of the chilli? And the yogurt and the chickpeas? Have you EVER encountered such a perfect pulse?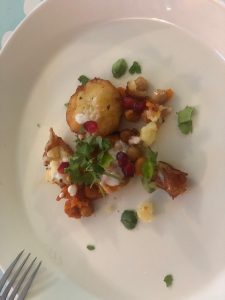 'I could eat ten of those' declared Himself as he put down his fork. 'Me too,' I said, and then we discussed how, if we had meals like this more often we could go vegetarian. But DING went the timer again and out wafted the smell of slow cooked lamb which put paid to that notion for now. We heated the dahl in a pot for five minutes and the main was ready go.
Another revelation: never before have I heard my husband comment positively about a lentil. 'My God,' he said, with feeling. 'I wouldn't even KNOW that was a lentil.' He's been a long time agin lentils, has Himself, after a bad experience with a Dansak we once shared in the Bengal Brasserie, the consequences of which I shan't labour here. This dahl, on the other hand, was rich and indulgent. And the lamb. I am still thinking about the lamb. Delicately spiced, velvety and succulent, it was a dream, and even more so when topped with raita and red onion.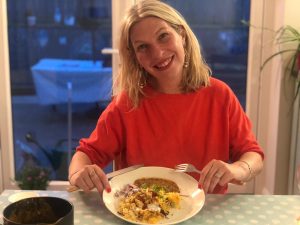 I like cooking, but I'm too busy to be flavouring a raita with cumin and coriander, or footering about making a tamarind chutney. I'm not about to start cooking a dahl for five hours, or making a curry with a base of 25 ingredients. Nor am I a precision cook who ensures that that's an interesting mix of tastes and textures on the plate. In short, I'm a mum who's wearing about 4 different hats at the moment. So to have this beauty dropped on my doorstep was a Friday Delight indeed. We were too full to have dessert so waited until  on Saturday before sampling the chocolate brownies from Little Pink Kitchen. I never would have thought of adding cardamom to a brownie but it certainly lent it a Bombay twist, and along with a scoop of Al Gelato (which we'd ordered separately,) it was an unctuous, stunning combination.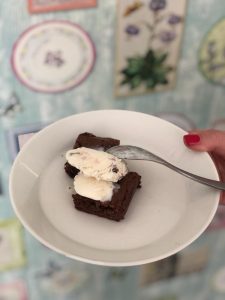 All in all, it came to over fifty quid, at £23 a head plus extra because Himself had ordered 6 bottles of beer. This meant we had free delivery and for restaurant quality food I think it was worth it. Given the money we have saved by not going out and how we have all but eliminated food waste- I think this is an indulgence well worth forking out for.
(Taste & Tour are no longer offering this particular Friday night service, but keep an eye on their website for other exciting developments.) Meanwhile, keep supporting restaurant when you can, so they are still up and running when we are.