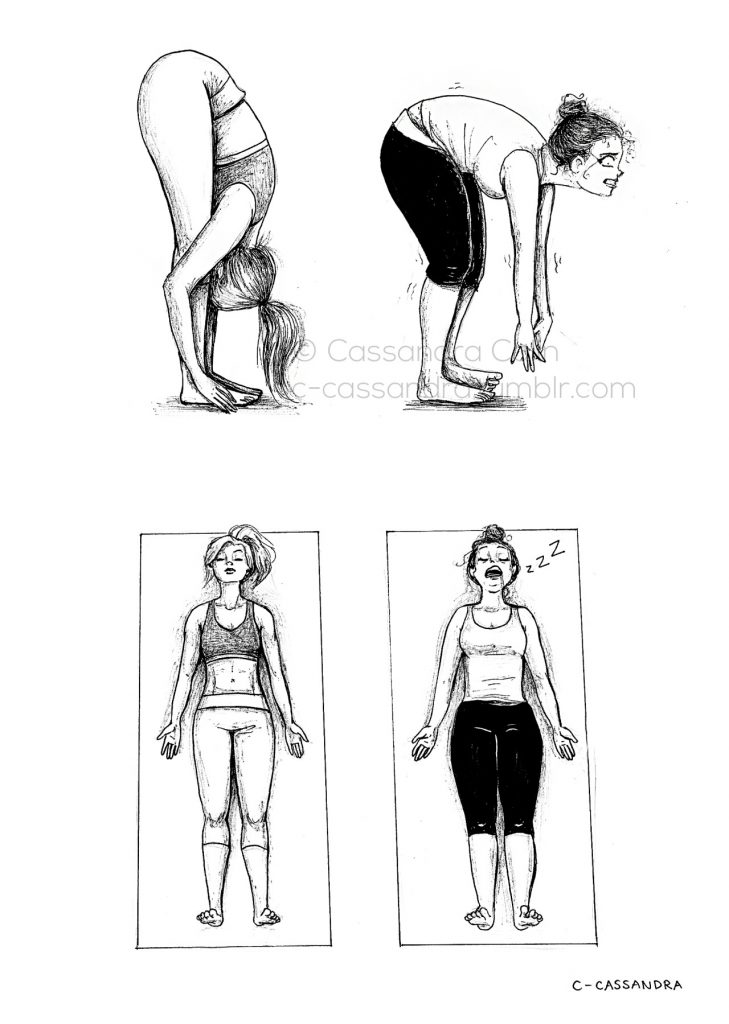 I'm a great one for having fanciful notions. For years I imagined attending a yoga retreat, and it played out something like this. I'd be decked out in Lorna Jane to suit the occasion. I'd be early, so would take a stroll beforehand, perhaps a light lunch, taking time to channel the zen within, so I'd be receptive to the yogic vibes as soon as I set foot in the place. My triceps would be toned and my belly taut, since I'd have been flat-to-the-mat in training so I'd be pliable and bendy for the weekend activity. I'd rock up in a convertible, with some dinky hand luggage and present my coiffed, svelte self at the appointed hour.
At no point in this reverie was I a sweaty, flipped-out mess, in a clapped out Corsa.
Here's how it actually rolled. You've perhaps read the previous post, in which I was assailed with images of Armageddon and my nerves were shot and LSB bundled me off to a retreat in the hope that I'd chill the fuck out (his words). It didn't start well. After the circuitous trip I was nearly foiled at the last hurdle, since when I finally reached the lodge, it remained unattainable, as there was a gate and a big windy country lane leading down to the premises. The gate was electric and had a buzzer. A buzzer which needed a code, which I of course, didn't have. I'd no notion so was standing looking utterly gormless, when two lovely ladies drew up and came to my assistance. One noted my defeated expression and said "You're not having a good day, are you love?" Too bloody right.
Not being half-wits, they supplied the code and in we drove and the retreat organiser Stuart greeted us at he door. He was a sprightly sort of a fellow. "Welcome welcome!" said he, relieving me of my bag, and hot-footing it up the stairs two at a time. Already he was the embodiment of this healthy living lark. His partner Martina, sat serenely in the kitchen, nursing her baby boy and emanating calm. "Juice, tea, bowl of borscht?" offered Stuart before showing me to the room I'd be sharing for the weekend with two others. It was a dorm, but not in the conventional Malory Towers sense. Oh no. It boasted two sets of over-sized bunk beds with delicate wispy curtains and enough space for a bedside lamp and one's various accoutrements. I started to make mental notes so LSB could erect something similar for the girls.
I felt myself begin be decompress. I was only through the door, so this was strange indeed. I'm an uptight sort of a creature. It was a Friday afternoon; I was in a strange place, with people I didn't know, and no mention of a G&T. "This is very curious," I thought.
"We'll have our first class in 15 minutes" called Martina, so in I went to meet the rest of the yogis in the living room where a fire crackled. We took in the panoramic views of the lush verdant landscape. "There's two more joining you later, so you're an intimate wee group," Stuart informed us. There was a nurse from Dublin, a sales rep from Cultra and two ladies from Antrim who were a scream. 'I've never done yoga in my puff" said Mary. "I'm only here because of her," she nudged her friend. "And I've brought my Barry's tea, I'm not having any of that other nonsense". My sort of woman. There wasn't a pretention among them. And no Lorna James or Lu Lu Lemon either, so I fitted in just fine in my H&M and Decatholon combo.
Martina led us outside through to the studio which was a converted stable, complete with wood burner and yet more views over the mountains. The smoke from the burner and the pine resin reminded me of a lodge near Budapest we'd visited on honeymoon, and when Martina, who hails from the Czech Republic began her instruction I felt entirely transported elsewhere.
Normally I practise Vinyasa Flow yoga, which when you've built up the rhythm feels like a fusion of yoga and dance. But Martina is a trained Iyengar teacher, which would be my least preferred if I'm honest; I say this because there is a lot of time spent arranging props; tying belts, arranging yourself on cushions and folding blankets and shoving them under your buttocks to perfect the pose. Frost says in his poem 'For once, then something' that he's 'always wrong to the light' and that's me in an Iyengar class, still buggering about with a belt when everyone else has held their pigeon pose for three minutes. But I persevere and it's a judgement free zone. It's also hard to contemplate the possibility of nuclear fall out when you're suspended by a rope in an attempt to perfect your downward dog. It's a good diversion. "Make your collar bones smile", intones Martina, and after all the heart openers I'm breathing more expansively than I have in years. I expect to feel tight after three tough sessions but when I wake on Sunday I feel as though all the knots and tension have been scooped out from between my shoulder blades. Miraculously there is room there. After every relaxation I fall into a dreamy stupor of semi-consciousness, and leave the studio in a somnambulant state.
Maybe the lack of caffeine also contributes to my drowsiness. We wake each morning to the sounds of Stuart tinkling with a juicer to whizz up green smoothies; he fires in spinach and kale, pepped up with pineapple or apple juice to sweeten it up. And ginger. Ginger's the Kate Moss of spices these days. "Is it a Nutri-Bullet you have there?" asks Maura from Dublin. "No, it's an American yoke, you just chuck it all in and give it a good old rev" explains Stuart. There is much talk about juicing and fasting and food fads over the weekend. Tara, another Dubliner, recalls grim memories from the solicitor's office where she works, where employees had a penchant for juice diets. This wasn't conducive to a mellow working environment. Starving, they were. And ratty with it. "The secret is adding avocado or banana, maybe some yogurt," explains Kerrie, who has done fortnight long juice retreats in Turkey and returned all aglow. I'm stunned, frankly. What kind of eejit would think they could work all day with nothing only juiced up orange and celery to sustain them? And these are people in the legal profession, who are meant to have brains. No wonder the country's in a state of chassis. Tara's boyfriend was the only fellow in the group, and he was an enormously relaxed sort of a bloke, so it wasn't a bother to him at all. He was very new to yoga too, which suggests this is a weekend for anyone.
We enjoy a 'meditative walk' each morning through dew drenched fields where we are encouraged to clear our minds and focus on our senses. It's eight am, so it's a relief not to be making conversation, and we listen instead to the babbling brooks and the cawing jackdaws and pluck blackberries off the hedges as a pre-breakfast snack.
At mealtimes the table creaks under the homemade fare. It may be meat free, but no one's going home hungry, and flavour is KING. Coconut and yogurt feature heavily and everything, from the carrot and cashew soup to the pistachio and almond cake and mango mousse feels like an indulgence. When Stuart pops a bowl of Sri Lankan curry before me, the zinginess of the lime and coriander filtering through the steam have me transported back to the East. I could be sitting round the table in Cambodia before I've even had a mouthful. And yes, as I said, no booze. Oh, how thrilled am I to find that conversation and laughter still flow, without waking up the next morning with that dreaded feeling, "What the fuck did I disclose last night to a group of strangers?" Even after our walk along the Táin Way into Carlingford on the Saturday, no one slips off for a cheeky pint. Our self-control is mighty. It's a relief actually, when we spot the hen and stag parties, not to be joining them for a night on the tear.
There's just one problem. When I'm away from home, and out of my routine, I may think I'm relaxed, but my gut knows otherwise. And despite fruit salad, peppermint tea, milk keffir and cashew nut burgers (or perhaps because of these, they were a bit on the dense side) I get completely, and utterly constipated. I've written before about the cranky nature of my bowels and how really, they need to be treated with extreme caution. Maybe the lack of caffeine was the problem. But by Sunday my guts had properly taken umbrage at the dietary changes inflicted upon them. My lower abdomen looked as though someone had taken a balloon pump to it. There was no way on God's sweet earth that I was adopting any class of a yoga pose in front of anyone. So I made my apologies and took my leave after the morning stroll. The hosts were gracious and eager for me to stay. "Ahh don't go," says Stuart. "Take a book and sit by the fire and have your lunch with the gang." But to quiet the turmoil within, I politely declined and hoofed it back up the road, to the comfort of my own bathroom.
But despite the aggravated guts, I felt a great deal more settled in myself and I'll gladly return if they'll have me. (it's been a fortnight since the event, and I'm glad to report that innards have returned to normal, or as normal as mine ever are).