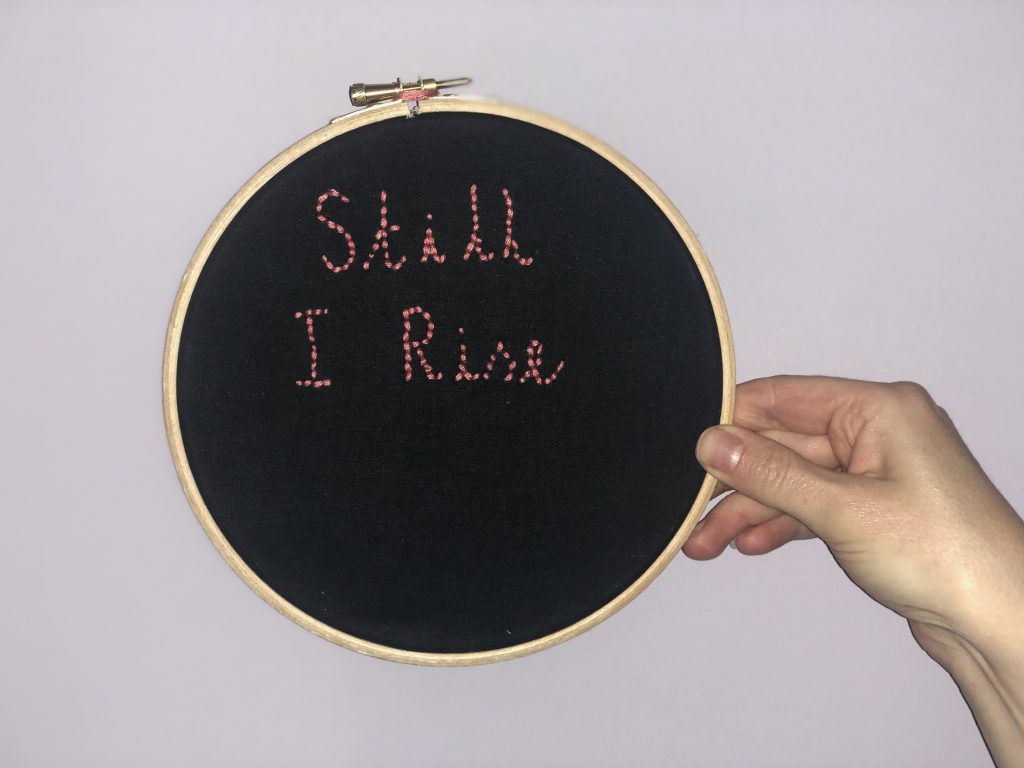 'Am I going to be middle-aged?' I ask LSB.
'Are you thinking of buying a sports car?' he replies.
'No,' I say, with conviction.
'Well then, definitely not,' he says.
(I hesitate to tell him there's a white Audi TT for sale down the street).
On Tuesday I will be forty. Months ago there was talk of a party, but then I not only joined the PTA with my friend but the two of us decided to chair it. Since that error of judgement, neither of us has an interest in organising anything ever again. We are done with organising now. Last week there was a party, an anniversary dinner for our school in a local hotel. We hired 'The Bandoliers' and such was the vigorous dancing on my part, that I feared I may be suffering from whiplash the following morning. I wasn't, but that didn't stop me lying in bed until 1pm after the exertion of the evening.
This weekend has been calmer. On Saturday morning I took myself to a sewing workshop at Portview Trade Centre in East Belfast. My friend Kirsty has a studio there and was showing a few of us how to make a decorative hoop to hang on the wall. LSB knows that Kirsty makes reusable hygiene products for women in the developing world. Given that I've recently started using a menstrual cup, he misunderstands and thinks that the hoop is some sort of Earth Mother gynae device. (His words). He is relieved when I tell him it isn't, and that his intervention won't be needed to extract it.
(One day, when I am brave enough, I will write a post about my Tulip Cup experience. I am au fait with the process now, but it took a while.)
Back to sewing and my friend. Kirsty is a bit of a legend, and I'm not one for bandying words like 'legend' about. She has founded the charity Shared Threads which brings hope and education and dignity to those who have none. She's just back from a trip to India, where she taught women in a prison how to sew sanitary pads themselves. She took the family with her too. 'Most people take their kids to Disney Land', she laughed on Saturday. 'Mine looked for tiger poo in the jungle.' I think her children will remember that trip with fondness. None of that ersatz saccharine shite for them.
Kirsty's studio has a minimalist feel to it, and it's airy and uncluttered. Two spider plants sit on the window sill, underneath which is a table with a rose gold lamp and an old Singer Sewing Machine. It's a space which wills one to be creative and exhale.  The vibe makes me feel like I could actually get some work done here. There is a rose gold cafetière containing extremely good coffee.
Kirsty shows us how to embroider messages onto fabric which will be encased inside a wooden hoop. I am sitting beside a heavily tattooed man with a well-groomed beard. He sews impeccable stitches in blue thread onto a speckled linen cloth. I am in awe at his precision. We sip our coffee and work steadily, mindfully, and I am grateful for the calm. I didn't know what message to sew on my hoop, but I settle on the words 'Still I Rise' from Maya Angelou's gorgeous poem. It's about feistiness and courage and resilience; attributes I need to hone. I'm tired and bewildered and a bit directionless at the moment. Still, anytime I read the poem it brings me joy and a profound sense of hope. The letters may be a bit wonky but I kind of like the fact that life is messy, but that's all part of the fun, or at least the journey.
Later on Saturday, a crowd of us gather at some friends to celebrate their child's birthday. The men opt to drive and drink non-alcoholic beer while us girls sip prosecco. There are cheeses and pastries; fresh fruits and cured meats and two types of home-baked cake. The kids shed their shoes and bounce and play and there is a warmth and conviviality which has me almost in tears. I grow steadily more emotionally incontinent as the years pass. I identify the feeling which threatens to overwhelm as gratitude. I am so grateful for the kindness and the steadiness and in particular, the irreverent humour of the people around me. I find life a bit tricky at times. But like the title of Ruth Fitzmaurice's beautiful memoir, 'I found my Tribe',  I feel I've found mine. I've a few tribes actually, some of which overlap. They all help me rise in different ways; whether it's rising to challenges or rising above some of the nonsense in life one has to face.  I'm thankful for every one of them.