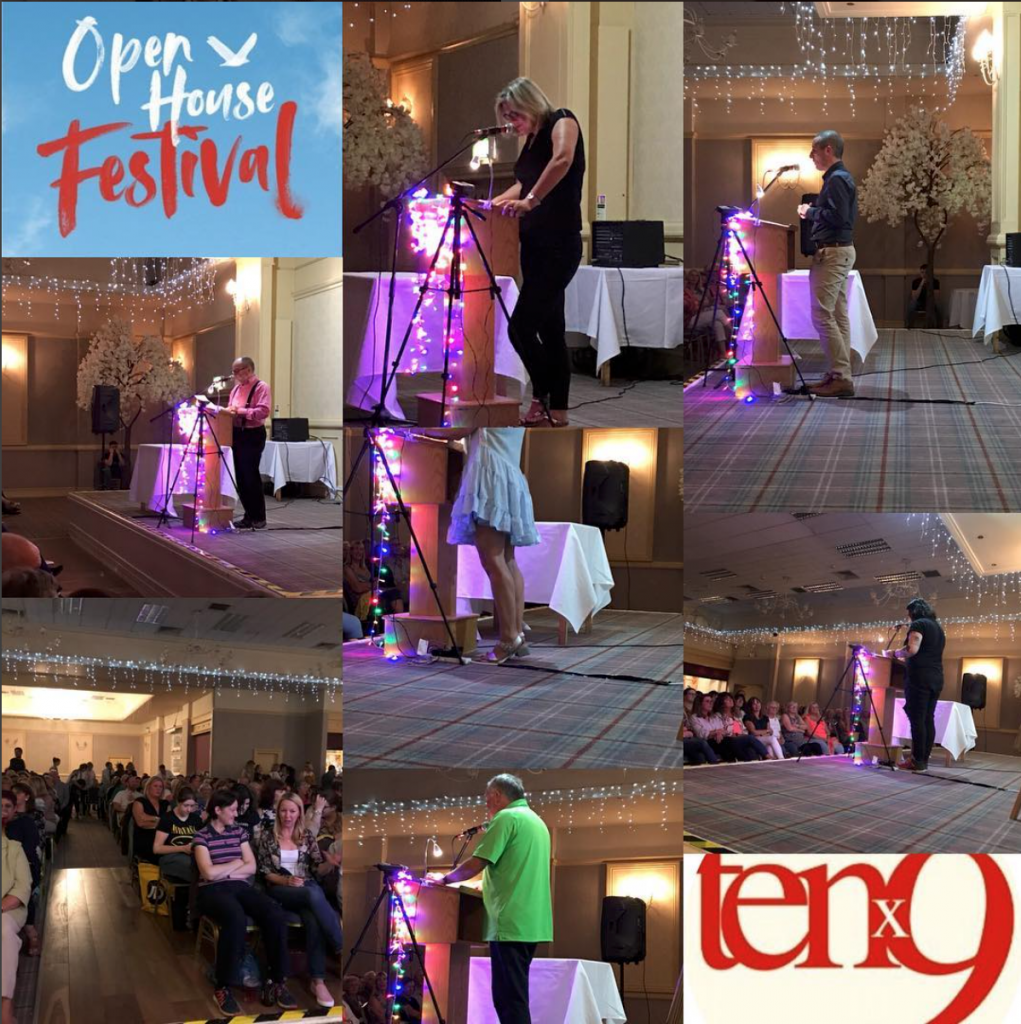 Morning all. I do hope Monday finds you well and sprightly. I myself, was woken at 3am by The Small Child, who crawled in and disported herself in a manner which was not conducive to sleep, (for me, not her) and thus I found myself setting about house-hold tasks in the early hours. Yes, our kitchen does look less of a bomb site this morning but I have puffy eyes and a most pallid complexion. Upon nipping down to Sainsbury's to purchase bread at 8.15 I had the misfortune to catch a glimpse myself in the camera at the self-service tills. It was like one of the photos one sees on Crime Watch. Anyhoo, at least I applied make-up on Friday evening when I read my story in Bangor for Tenx9. (I couldn't have people saying 'That Helen McClements hasn't aged well has she?') Those are my legs in the centre photo, as I stood on tip toes to reach the mic. Not the brightest, me. And that Paul Doran who runs the bloody event just chortled away to himself and took pictures instead of fixing it for me, the dirt bird.
I'm actually feeling better now after two cups of coffee and a tea. If you've time now pour yourself a nice hot beverage and see if you can identify with having the fear of God put into you at the CSSM and freezing your ass off on the beach. Here's the story:
******
1980's Bangor didn't cover itself in glory. Ballyholme Beach certainly didn't, and I should know, because I grew up overlooking it, on the Esplanade. My poor parents never anticipated living there, in a rambling 5 bedroom semi, but they've been there 35 years so I suppose they're used to it now. They wanted to move to the Donaghadee Road, to a house with a sunny south-facing kitchen and a large garden where I recall there were hens. (Not that my mum ever wanted hens. 'Terrible stupid creatures, and they make a shocking mess.') But that house fell through and since their other house had already sold they were in a right fix, with two small children and a nana and granddad to boot. In a sort of demented frenzy they grabbed whatever was on the market and in the summer of 1983 we moved in.
The previous owner of the house on The Esplanade had moved sharpish as well, because God had told him he was needed elsewhere. Mum said the way he talked about God you'd have thought he'd been on the phone to him that morning. God however, never suggested that he check the house for damp, install decent double glazing or fix the dilapidated garage. Thus after the expense of buying the house, my parents had the almost insurmountable task of making it liveable. The damp sea air made all the wood swell so none of the doors shut without a massive bang and one small friend told me she thought everyone in our house was always in a shocker of a mood, with doors slamming every three minutes.
Such was the force of the gale that the front and back doors could never, ever be open simultaneously, as the gusts shooting through would cause a door to slam so violently that glass could shatter and small lives could have been lost. Relaxing, it wasn't.
And aside from two summers, when I was small, and it was hot enough for me to run around in bikini bottoms and nothing else, I almost always remember it being cold. And this seemed to really, really irritate my mother. Having spent two years in Papua New Guinea where the sea was like a 'warm bath' and she and her friends ran round wearing M&S nighties as dresses because the Papuans 'wouldn't have known any different' since they didn't have M&S on small Indonesian islands, she found the icy Belfast Lough a terrible disappointment. 'It's a waste of a sea,' she used to say, mournfully. (I have to add here that my mum is actually from Coleraine, so this shouldn't have been a surprise.) To this day there are regulation 'red fleeces' and one is often pointed in the direction of the cloakroom to avail of one before the heating is cranked up. (Why the fleeces are always red I don't know. I assure you they're not communists).
One summer when it rained for a solid month the sun finally emerged and everyone descended upon the beach in a 'Carpe Diem' sort a way. 'Please, can we go, please please,' we begged. We must have been quite little because we weren't allowed to go across the road and down the steps by ourselves. With much sighing and giving off, beach accoutrements were assembled and down we traipsed. The tide must have been coming in because there wasn't much space, and we got ourselves settled and my mother looked beside her and there was a steaming pile of dog poo. So livid was she, that our beach excursion was aborted after about 10 minutes. Back up the steps we went. 'You wouldn't want to be swimming in that sea anyway,' said another disillusioned mum. 'The sewer flows straight into it,' and as I recall back that that was indeed the case.
When we weren't enduring rubbish trips to the sea we had rubbish trips to the park instead. Ballyholme park was, and still is, home to The CSSM for two weeks in July, and parents, whether religiously inclined or not, rejoiced in off-loading their children for free, for a couple of hours in the morning, afternoon, and evening. Sounds too good to be true, doesn't it? That's because it is, unless your child's idea of entertainment involves game after game of rounders and 'What's the time Mister Wolf,' led by extremely over-enthusiastic young people. I didn't much enjoy this type of activity, but thought story time sounded nice and settled myself, cross-legged and eager in front of a man with a flip-board. He proceeded to show one lovely picture of blue skies and sunshine and fields, a bucolic countryside scene, one could say. 'This was heaven,' he explained. He flipped the chart to a bleak and scary picture of dark clouds and lightning and rain. I don't recall if there was a devil with a forked stick but I wouldn't have been surprised. 'And this was hell,' he went on. 'So we had all better be good Christian children because we didn't want to end up there when we died, did we?'
There were some rousing hymns to follow and a few more games of Duck Duck Goose. I remember thinking what is WRONG with me because I couldn't skip blithely on after hearing that story. I had taken it very much to heart and all the giddy kids and over-zealous leaders seemed to me like the very worst sort of people, and to be stuck with them for ever and ever seemed hellish in itself. I think I was 5 when this occurred. 'I don't want to go back tomorrow,' I told my mum when she came to collect me, and taking one look at the hordes of noisy children she muttered: 'I don't blame you.'
As I got older I used to look out at all the young sailors in their toppers on yacht club night which was a Tuesday, and feel jealous that we weren't a sailing family too. Rather than feeling on the outside, I was in the inside looking out, and feeling a bit odd, as if I didn't really fit in there. But then I gave it a go and after being clattered on the head by a boom (that godforsaken wind again) I decided I mustn't missing much, as it was actually much nicer just drinking a cup of tea on the window seat with a lovely view.
I'm aware that all of this paints my formative years in the most ghastly light. There were many lovely moments too. The kitchen may have looked like a throw back from the 50's but that didn't stop my Nana baking scones that were light as air, sponge cakes that even my brother's most caustic friend described as 'lush' and pancakes served straight off the griddle. Other kids along the Esplanade may have been given ponies and skiing holidays for Christmas, but they never had the baked goods we had and the table was often crammed with children saying things like, 'Look, homemade jam!' and 'Wow, real butter!' (None of that Flora shite in our house). Nana's apple tarts were so good that I felt actual pity for any child who turned up to school with a Mr Kipling in their lunch box. That, I thought, was almost tantamount to abuse.
As we got older, Mum and Dad were of the opinion that they didn't care if their house was wrecked as long as their children were safe, so number 28 played host to teens every summer, many of whom stayed for indefinite periods of time. They didn't change the 1970's carpets because the gharish patterns hid all manner of stains from DM boots, and disguised evidence from vomit after someone got wired into the Scrumpy Jack. Budding musicians loved our house because it was so big they could crank up the amplifiers for guitar solos from Megadeth and Metallica and nobody complained. It was quite the place to be, circa 1994 when my brother had all his friends round for band practice, and if you didn't mind my trying to save your soul, because by that time I'd given in & become an Evangelical myself, it was probably quite a lot of fun.
The house has since been redecorated, which is a shame really, as my 5 and 6 year olds can wreck a joint in 5 minutes flat, and I lament that every time I come home. Could you not have just left it a bit shit, I say to my folks, but I don't begrudge them a thing. I grew up in an Enid Blyton sort of a world, in a warm cocoon away from The Troubles, in a ramshackle house, full of character. Now, when we drive up from the Ballyholme Road and see the yellow field of Ballymacormick Point catch the light, my heart always gives a little skip. It's good they kept the family house, and one more thing for which I am grateful.