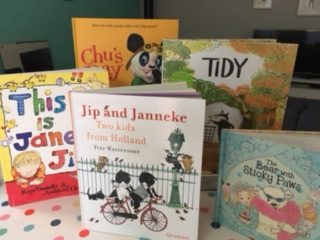 Hold it right there, I know where you're going. You've just got another birthday invitation to a small child's party and you're making the obligatory journey to Smyth's. Why not take a trip to your local independent book store instead and see if they're stocking any of these titles? (Can you hear the mantra? No more plastic shite, no more plastic shite….)
Tidy by Emily Cravett 
This great tale about a badger with OCD carries a sound ecological message. When Pete can't get the forest looking ship-shape because of pesky leaves and muddy footprints, he sets about wrecking the place, with predictable catastrophic results. Thankfully his woodland friends help him return things to as they were before, once he realizes his folly. 
When developers come digging up the greenbelt in your local area, don't be surprised if your little tree huggers are the first on site with their placards, fighting the good fight. 
This is Jane, Jim by Kaye Umansky and Margaret Chamberlain 
When a new baby arrives home and starts snaffling all the attention, Jim is nonplussed. He wanted a hamster, but has been landed with a sister instead and he's feeling the neglect acutely. I've read this story about twice a week for the past three years and I still, STILL choke up on the last page. It's gorgeously written in iambic tetrameter and the simple verses just dance off the pages. Buy this for any friends who have just fired out another baby. I guarantee their wardrobes are already full of M&S clothes for infants; this book is what they REALLY need. 
The Bear with Sticky Paws by Clara Vulliamy 
Do I just like this book because the wee girl looks like a mixture of my two children and has the temper to boot? No, it's just a delight full stop. From the mischievous bear who comes to visit; the savvy mum who just pours her tea and clears away off to get her head showered, and the cosy ending when the child is gently taught a thing or two. The author's mother is the veteran writer Sally Hughes of Alfie and Dogger fame and Vulliamy shares her talent for capturing tiny details to snare your child's imagination. She just gets children (and has a fair notion about their mum and dads too), she even has the pet cat down to a tee. Her writing is playful and glorious, as are her pictures. 
Jip and Janneke by Fiep Westendorp 
This book is delicious: little snapshots to take you through the seasons in Holland, picking up on a few cultural titbits along the way. The two children's characters are shown as little black silhouettes against a backdrop of exquisite colour. It's another one I'm never done reading, and each time I open its lovely pages I'm like GET ME TO HOLLAND. Those continentals are so civilized, with their Van Gogh and their tulips and their sipping coffee by a canal and pedaling by serenely on their bicycles. I open this book and the imagery transports me right back to a holiday in Amsterdam, many years ago. It makes me want to pack a bag and take the family to the city zoo and visit a few windmills.  That's half term sorted then….
Chu's Day by Neil Gaiman, illustrations by Adam Rex  
Poor Chu, the panda, is troubled by the severity of his sneezes. He finds them  difficult to harness, much to the chagrin of his world weary parents. Such is his affliction that he's a liability to take anywhere: threatening to create havoc in the library, the diner and finally at the circus where it all goes spectacularly belly up. The illustrations are simply out of this world. My favorite is the kangaroo who waitresses in the diner. She's one gorgeous Antipodean. LSB prefers the giraffe at the lending desk at the library. It's hard to choose, to be honest.  
Have a great weekend everybody, and if you do end up at a party I hope there's at least good coffee on the go.