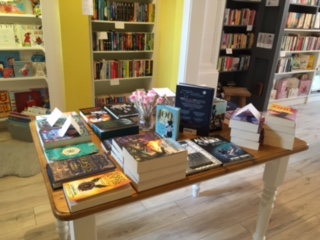 This is the sort of shop that gives LSB apoplexy. It's the kind of store into which I wander and am overcome with a keen feeling: I am meant to be here. I am home. The walls are pastel hued, the ceilings are high and the bay windows look out onto the Ulster Museum. Books are sorted into neat little piles, thoughtfully chosen. The contenders for the Bailey's Women's Prize for Fiction jostle beside Penguin Classics. Children's books sport handwritten reviews from local youngsters. Teachers from Methody trot over with small classes and set up reading groups in the space out the back. (Apparently one forward thinking gentleman brought over a few kids who were on detention and they had a delightful time.)
While I'm there a couple of regulars come in for a yarn. There's a blackboard behind the cash desk with details of a monthly book group held at the venue. I'm getting the feel of a literary hub.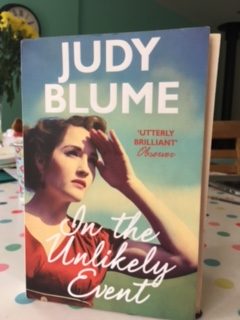 I limit myself to buying one book and struggle enormously with the decision before settling on Judy Blume's latest offering for adult readers: In the Unlikely Event. I adored this author as a teenager and then was reacquainted with her adult work when I picked up a copy of Summer Sisters in a book swap in a hotel in Bangkok. It made a ten hour bus journey down to Krabi in the south much more bearable. I bought this one to read on holiday but it was an odd choice for a nervous flyer. Neither its title, nor the fact that the cover shows a woman looking into the distance with an anxious expression suggested it's subject matter: I didn't quite join the dots. Needless to say, when we boarded our Jet 2 flight home from Girona and the cabin was like a sauna due to a 'problem regulating one of its engines' I was all for barrelling off the plane and staying in Spain.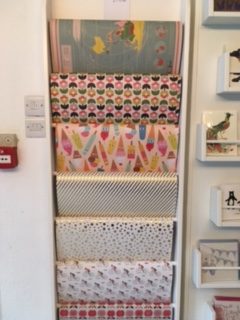 Anyone with a fetish for fine stationary will be titillated beyond their wildest imaginings. (I exaggerate. For that they need to take themselves off to Japan where one stationary store has seven floors, one of which is entirely devoted to pens.) Everything is carefully chosen; I buy a card with a fluffy ostrich nuzzling its chick for my friend who's just had a baby girl. Normally I am VERY stingy about cards; a) because I used to painstakingly make my own and now I can't be arsed so I resent paying for them, and b) unless they are either extremely beautiful, thus worthy of a frame, or else highly amusing, I reckon they're a waste of time.  They bring out my OCD.  Although I do love one popping through the letter-box, especially if it contains a little note. Anyway, I pick the card up and the owners Paul and Linda tell me its origins. "Oh yes, that's an English lady makes those. She's taken a career break and thought she'd give creative pursuits a bash. So we took a few off her." See? You're not going to get that background detail in Clintons are you?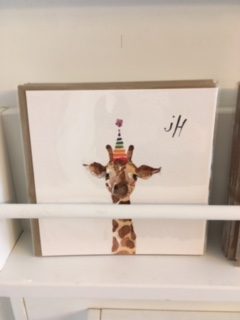 So next time you are looking for a thoughtful gift, or find yet another child's party invitation in the bottom of their school bag, get thee to an independent book store such as this. The recipient won't be disappointed (and if they are, reevaluate the relationship).