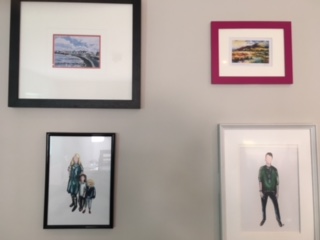 This is my new wall of art, of which I'm ever so proud. The magnificent Stephanie Prince is responsible for the bottom two: the larger one features LSB in a photo taken with him showing off his medal the day after the Dublin marathon. It's lucky that Stephanie doesn't do faces as he was dreadfully smug. (He still talks about the bastard marathon sometimes, with his face all aglow and a sort of wistful look, steeped in nostalgia for the moment at the end when a total randommer swept him up in a giant hug. I think he wishes he could do one every week. The nutter.) Anyway, if you look closely you will see a little pair of eyes and a mouth, scribbled on by an untrained hand. This addition was from the older child, who felt that the portrait was a tad unfinished. Seriously, isn't it lucky that we like her?
Framed in pink is a print by Alan Kirk of the Mournes, one of my favourite local artists. It's a view from Dundrum and is quite frankly as close as I ever get to the hills these days since I can't get myself organised, and any weekend I think I might, it generally shits it down. Are you a parent? Do you long to don your hiking boots and bag a couple of peaks on a Saturday? WELL HOW DO YOU MANAGE IT? Answers gratefully received.
And then, the latest addition to this lot, The Esplanade in Ballyholme by Aly Harte and framed by the gorgeous Dylan in The Hallows Gallery on the Ormeau. He is the most obliging chap altogether: it was a delight going in and having a nosey. Even though I was up-front about the fact we're broke and won't be buying any art for a while (try the year 2032) he still showed me round and took ages helping me choose the best frame to show off my print. And then, when I returned to collect it he offered my children lemonade and gave them a wee tour as well! He even let them touch some sculptures. He's a trusting sort of a fellow. He's also getting married this Saturday, and still manages to look cheery and carefree. I mean weddings, what a massive pain in the arse. Mine was a headache from start to finish, the only boon being that LSB turned up looking lovely and said "I do" at the appropriate moment. That helped me ignore all the surrounding chaos. (There's a whole other blog post on that I can tell you.)
There I go, meandering off topic again. I blame the wine, and it's only 6-45 but my kids were hideous today. It necessitated opening a bottle at 6.05. Is that really dreadful? Don't even answer that one….