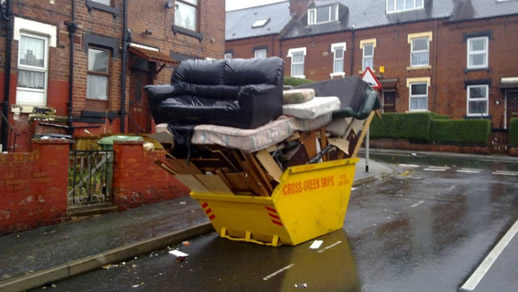 Never a dull moment in our house. You just never know when you're out and about, where you might spy a skip with stuff destined for landfill and think, I could do with a chair like that. I am now in possession of an office chair, stationery, a few shelves and a child's seat, simply down to some luck and an eagle eye.
I rang mum to tell her of my loot. "Bin hoking, what next?" she mumbled through a mouthful of wheaten. (I'd rung at half three, apparently it was brunch. They eat at odd hours, those pair.) "Who's hoking through bins?" I heard the Wise Old Elf enquire.
"It's SWB, she's after going through a skip. You've given your father apoplexy and him trying to take his soup", she carried on mildly, not seeming remotely disturbed, despite the hyperbole. "Though is that not illegal?" She then reflected. "You don't want to be lifted, and you a teacher. Wouldn't look good at all."
I explained the situation. I was passing a skip, watching a few blokes toss items in with wild abandon. It was about to be carted off and when I enquired as to where they said: "The dump. What is it you're after love?" I fecking love bin men; salt of the earth. I can't walk down the Ormeau these days without a toot and a wave from a sanitation officer. "You one of them hoarders? My wife's like that. Nightmare to live with, house full of shite" said one, as he dusted down a shelf. "We've a small chair too, where is it Decky?" They rummaged a while, then found a little wooden chair, for the mini. She looked thrilled, after staring wide-eyed at the whole interaction. "Take that table too, lick of paint, it'll be grand."
I mean where would you get the like?
"So would this suggest that you're open to accepting things again?" says AAI, ever the opportunist. "Because I have to get rid of some of this glassware, and I've a lovely set just the size for a prawn cocktail starter, and you entertain more than I do. Or you could chop up some crabsticks, and serve on a bed of cucumber and lettuce." "Yes, I regularly serve up starters in stemmed glasses, mum. I've all the time in the world to scrub non-dishwasher proof crockery."  The conversation went on to take a morbid turn. " I mean you hold on to these things, and you think you'll use them in the future, then you just have to be honest, at our age you don't have much of a future left. You might as well just get rid."
I mean FFS! There I was, all jaunty with my recycling and happy encounter with the bin men and now I have the thought of my parents' mortality firmly planted in my head. AAI doesn't dwell on the subject though. "Here's the cat in, I must go and dry her paws. She went out for her constitutional after her cream." (The cat is fed cream, served at room temperature on cold days, after her Gourmet Felix, as a dessert.) You'll not see a glossier coat this side of the Atlantic.
"All right, I'll go on then" I said. I did have a chair to paint and at least handiwork takes one's mind off things. It's still sitting there, unpainted. I had a snooze instead, with a child under each arm. It was that sort of day. And it's Friday. There's always gin.