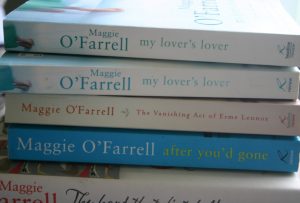 I've just read Maggie O'Farrell's The Hand That First Held Mine and I'm still reeling to be honest. It was one of those novels in which the characters grab your heart, limpet-like, and it takes a while to shake them off. She writes about children so well: their heavy warmth, from the new-born nuzzling your neck to the toddler on your hip, wee leg wrapped lemur-style round your waist. Sometimes I miss my babies, but then I give thanks that I'm still not knee deep in nappies as that period dragged on a while.
So vividly did she paint 1960's Soho that I could have been in the Coach and Horses too, eavesdropping on Jeffry Bernard and his motley band of mates. But what I really admired though was her ability to do justice to the mundane and banal. The achingly long hours minding a baby, when one exists as though in a vacuum, while the rest of humanity, buzzes around purposefully but your world has shrunk, to one room and one tiny infant you have to keep alive until your partner comes home at 6. I recall it vividly.
I read the writer Shirley Hazzard's obituary in The Guardian and she summed up what it is to write about the everyday: "the expression of something in a supreme way." That's O'Farrell for you.
This Must Be The Place is her most recent novel and I've just started it, but I'm almost rationing myself to a few pages at a time, eking it out so as to savour the story and the characters. She always hooks you in with a bit of mystery, making you want to devour it in one big greedy go, but I'm on to her wiles now and I'm going to try and take my time.
I find it difficult to get my arse to a seat long enough to churn out a blog post but she produces these works of beauty (I know I sound sycophantic but I'm mad about this woman) while running after three youngsters, who often seem beset by bugs and ailments.
For all our sakes Maggie, would you just feed them some Imodium or cork their backsides so you can get back to your computer and keep doing what you do so brilliantly? You help me transcend the misery of Brexit, of Trump, of all the shit out there. But you sharpen the experience of what it is to be human, to hurt, to long for and just to be. And there is always, always in her work, a sense of redemption, and reconciliation. We all need that. Are you listening Arlene?