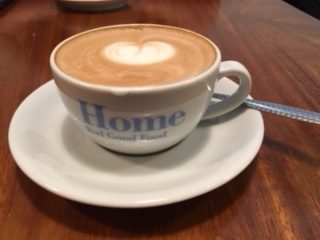 The wind outside is ferocious. It comes in gusts and bursts making the flue of the wood burner whistle and echo ominously. LSB is at the gym and I wish he was home. I'm anxious. The children are still up and unsettled, (no surprise there, the little demons) and I'm typing with one hand, since the cat curled beside me looks up with reproachful eyes when I stop stroking her behind the ears.
But, I don't feel shit. I ring LSB and check he hasn't been felled by a tree and I go back to my January mantra: be positive, be creative, be kind. Yesterday I volunteered at the New Year's Day double parkrun in Stormont and afterwards at Ormeau Park. With freezing hands I scanned in jubilant runners after the first run, and helped serve up tea and coffee in a hastily erected and none-too-steady gazebo after the second. The kids cantered about in their puddle suits and despite the driving rain there was an atmosphere of something approaching elation. My face was actually sore from smiling. Parkrun got my year off to a positive start, but it is part of my usual routine. More significant this morning is the total lack of a hangover, since I had only a couple of New Year's Eve drinks, and I have made the decision to embark upon Dry January. Never before would I have thought that this was possible. January, as a month can be interminable- why would you willingly, willingly, inflict more distress and restrictions upon yourself? But I'm beginning to think that maybe drink is part of my problem. It perpetuates the cycle of stress: I knock back the wine to dilute the daily aggravations, but ultimately it just inflates the issues until they become more horrid than they actually are in reality.
Now readers, please don't fret. I am not going to become an evangelist. I've been there, done that and my toes still curl when I think of it, (just read SWB feels Lost at 10×9) but I will keep you up to date with how the month off the booze goes.
Today, for example, I met one of my oldest friends, and we took a yoga class together in Flow Studios, before sojourning to a cosy table in Home to catch up on three years' worth of chat. (Ten years ago, said friend went to spend a year in New Zealand and had the audacity to get a kick-ass job and stay on. TEN YEARS AGO. Can you imagine the cheek of it? I think it's a disgrace.) Now in the past, (as in 3 days ago) the idea of meeting her for lunch, without wine, would have been inconceivable. I would have felt it was a missed opportunity, a subdued affair, lacking in joie de vivre. Yet it wasn't. I asked our server Brian to conjure me up a mocktail, (not too sweet, I said) which he did with aplomb, and we ordered a selection of starters, from goat's cheese fritters to Vietnamese duck. We lingered for ages, over our tapas style affair, and reminisced about our trips to Greece and South America where we dissected each other's love lives and envisioned our futures over long decadent lunches and jugs of wine. We had a similar conversation today, and the lack of booze didn't limit its scope or depth. I do believe we could have been in Home yet, had real life not come knocking in the form of children needing to be fed and a husband's with an appointment at the gym to keep.
Fast forward half an hour though, and I'm trying hard to suppress the urge not to have a G&T. The children have taken it upon themselves to take down the Christmas tree, and are singing 'I'll Tell my Ma When I Get Home' on a loop. Drinks have been spilt and the floor is invisible under a sea of cushions, toys and half-finished drawings. After dismantling most of the tree I nip out to take a phone call. When I return, the small child has bucked all the pieces of the tree out of its box and sits ensconced within, with a collection of her toys. 'Tasha's in a boat', exclaims the older one with glee, and indeed they do seem to be afloat, on a tide of disarray. Laundry spills out of baskets, toilets need cleaned and dinners remain unmade. I want a drink. But thank God, I've done enough reading to realise that this knee-jerk reaction will be ineffective. All of the above will still need to be  addressed after a stiff one (feck is that not what got me into this pickle in the first place) and so I brew a pot of tea instead. Using leftovers I make the kids a chicken fried rice which the older one wants 'Every day please' because it is 'so so tasty!' High praise indeed. Instead of slumping, I have risen to the occasion. I feel chipper. The house still looks shit, but I accomplished a few tasks, and have remained lucid enough to write this post. So I have completed Day 2, avoiding temptation in Home where they have a belter of a wine list, and coming back to chaos with children in full 'wreck the joint' mode. This is encouraging, and I feel this is a challenge I actually want to stick at.  None too shabby SWB, I tell myself; keep up the good work.