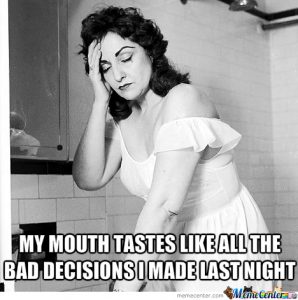 You wake up bloated and groggy and your tongue feels like you've licked next door's dog. Piecing together the night before, you realize that you lost the run of yourself altogether. You recall countless glasses of Prosecco, lovingly topped up by gracious hosts, and later by your merry self. You went to town on the sausage rolls, the tortilla chips and vol-a-vents. There wasn't a saturated fat that went un-nibbled. Judging by the cloying reek of garlic in the air you let rip on the dips too. And there was cake, oh Good Lord above was their cake. Mince pies, Büche de Noel, a slab of something rich and gateau-ish too that would have made Mary Berry proud. There was probably Baileys. Hang on, as you raise your head from the bed and get a scalding pain behind your eye sockets, there was definitely Baileys.
Used to be, back in those halcyon pre-children days, that you could have slept off the dreadfulness and gone for a fry in Maggie Mays, or Café Conor if you were feeling flush. But this morning, one small child has an elbow on your bladder and the other is bellowing "Mummeeeee, I'm lonely" as she watches Octonauts. How you hate Octonauts, but could be worse, could be Justin. Is that eejit ever off the air?
Prior to last night's munch-a-thon, you'd been doing quite well. There had been yoga and running and you'd even ingested some fruit. So what's to do? No use wasting precious energy self-flagellating and fretting: you'll need every ounce to drag your battered body from the bed. So it's futile to languish in a pit of despair: neck a glass of water then hit the shower. First liberally apply a citrusy body wash (my current favourite is Happy Buddha by Rituals) to revive you and then put a body brush to good use. Brush away from the heart and get yourself a-tingling. This stimulates the lymphatic system and kick starts the detoxing process. You should now be feeling a little less vile, so reach for the tinted moisturiser, or maybe you're more in need of Estée Lauder's Double Wear. The main aim is to not want to chunder when you catch a glimpse of yourself in the mirror.
So you've taken the bad look off yourself. Kids are plonked in front of the TV eating toast. (LSB comes into his own sometimes). Take your laptop somewhere quiet and do a few stretches. I appreciate that this sounds like the twattiest thing I've ever suggested, but this will help. Yoga with Adrienne has brightened up many a day for me, and she does a session for every eventuality. Morning Yoga, Yoga Rinse, (my own favourite) or Yoga for the horrifically hungover. Normally I wouldn't be dying about an American 'go gal!' type but I got in to her through my good friend Emma, who takes no shit. A few gentle postures with ambient tunes may be just the ticket soothe your soul and propel you onto action. A scented candle or failing that, a drop or two of Eucalyptus oil on a tissue will help cut through the fug.
And then, nothing else for it, out you go. The kids will be skipping about in a mild frenzy by now, launching themselves off the sofa. Holidays do that to children, which is why we long for them and dread them in equal measure. Fresh air will relieve the cabin fever and if you're lucky Hatch coffee van will be in Cherryvale where John or Claire will sympathise with you while you bemoan the choices of the night before. All is good guys, all is good.
(The following advice is only useful or relevant if you just had a few too many glasses of wine. If you went to town on the shots and all the rest, then God help you. I have no answers.)