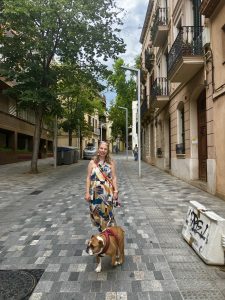 Jess Carter-Morley wrote a great piece in The Guardian recently on how to holiday like a pro. One piece of sage advice I took to heart was to have a rest BEFORE the holiday. (I would take it further and suggest a couple of days either end, should one have the luxury.) Be honest though, how often have you spent the first few days pulsing with such adrenalin that relaxation is off the cards completely?
We had a break in Portugal back in May, and what with work beforehand, we didn't board our Easyjet flight well-rested and serene. LSB had the beginnings of a stye, red and angry on his left eyelid. 'The sun will help it,' I said optimistically, 'it'll be gone by tomorrow!' Alas my positivity was unfounded and it continued to grow in size and ferocity. (Previously to this I had taken a rash in my armpits as a reaction to a new deodorant. Together we resembled Middle Age plague victims.)
Despite his distress, because as well as looking revolting it was, apparently, very painful, I set about organising activities. Who wants to go dolphin watching? I asked. Zero interest. Who fancies a coastal grotto tour? Sub-zero interest. Who wants to play in a freezing pool and splash me while I read the new Marian Keyes? Well, that was right up the children's street, obviously, so I perched by the chilly poolside, wondering how if 11am, was too early to get tore into a Verdejo. Meanwhile, LSB lay up in the room with a teabag on his eyelid, which was of no use whatsoever because the trick is to apply said teabag before the lid has swelled to the size of a leprechaun's scrotum.
It wasn't a remotely relaxing holiday. First of all, I forgot my driver's licence, so LSB had to do all the driving, with only one functioning eye. He did very well, considering. I can only relax when I feel I DESERVE to relax, I feel I have to EARN the wine and crisps and ice-cream. The day I dragged everyone rock-climbing, for example, I felt I could really enjoy my Argentinian steak with a carafe of Malbec that evening.
Carter-Morley also suggests that one has realistic goals and expectations of a holiday. The problem is, for me, that a holiday for LSB means having the chance to sit on his arse and relax. The highlight for him last year in France, was reading a book on the shady terrace of the caravan we rented. Delighted with himself he was, sipping a beer and chortling away to himself at some shite on his phone. I, on the other hand, was like Tigger on amphetamines. What will we do next? Kayak? Paddle board? Who wants to do aqua-aerobics? Apparently, I'm rather annoying.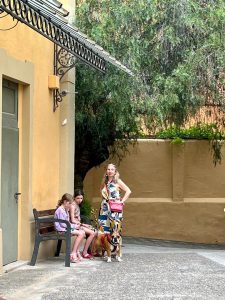 We are presently on holiday again, and this time, I'm a different type of annoying. LSB is minus stye and in better humour, and we are with my friend in Barcelona, hanging out with her bulldog, Jason. Aside from my pidgin Spanish, I feel like a native, wandering around the barrio with my trusty hound. And instead of complaining and being sour, I keep telling LSB, Isn't this WONDERFUL? But isn't it? Isn't it really? When are we coming back?' The superlatives just keep on flowing. 'You're kind of a person of extremes,' aren't you, opined the Small Child, with a degree of insight.
I think though, there is a solution at hand, and the solution is to be learnt from the Spanish. Here most Spaniards have a 'horario de verano' which means they work fewer hours in July and then the month of August OFF. The district of Sarrià, where we are at the moment, is like a ghost town in August because most locals head to the coast or to the Pyrenees.  If I wasn't trying to cram all the things I want to do into a short period of time, I would be much happier because I wouldn't feel such pressure and could actually relax: I'd be neither hyper Helen nor hyperbolic Helen. Happily, as  long as a decent beer is at hand, LSB is can generally cope with both.