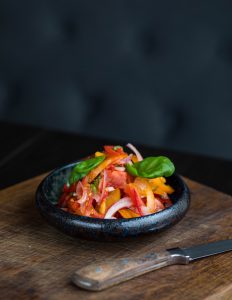 Is there such a thing as stress-free entertaining? Not in my experience, although it's something I do so often I should be a regular virtuoso by now. According to a recent survey by Tesco, the most anxiety provoking thing is having a clean, tidy house before the deluge of guests arrives. I agree entirely; there is always a certain point, usually thirty minutes before the ring-a-ding-ding heralds the visitors' arrival, that my jaw sets into a rictus grin and I start barking commands between my teeth.
'Put the shoes AWAY!' 'Get a hand towel for the bathroom!' 'No, that's a BATHMAT!' 'Yes, there IS a difference!'
Hairbrushes and bills and pens are swept off the counter into bags which end up under a pile of random detritus and remain lost for weeks. LSB scuttles about lighting candles in an effort to create ambiance and calm my nerves. 'Would you like a drink?' he asks in a hopeful tone, which is just an excuse for him get tore in, under the guise of placating me.
Another stress-factor for would-be hosts, is the worry that the food they offer up will be sub-standard. An old friend of ours used to regale us with stories about her pal who was an appalling cook, but undeterred by her lack of culinary prowess, still entertained regularly. 'Can you eat your avocado?' whispered a fellow diner at one of her suppers, 'because mine's like a bloody brick.'
But worse I feel, than serving up inedible food, is not serving up enough food. Scorched into my brain in high resolution is the memory of relatives coming for lunch one Easter Tuesday. I still wince when I think about it. Ill-advisably, I had hosted a dinner for neighbours the night before. All Lenten restraint was abandoned, the effects of which I felt deeply the following morning. Incapable of rational thought, I unwisely exhorted my aunt and her family to come. I was keen to show them my new kitchen extension, which I told them was perfect for entertaining. Rule number one though, when inviting people for lunch, is to ensure you have something to feed them. Given that my brain resembled rump steak to which a meat tenderiser had been applied, I didn't conduct a stocktake. Before they arrived, I peeked under the tin-foiled plates in the fridge, thinking I still had generous portions of quiche and dessert left. Nope, just a subdued looking slice of pie that a child had clearly poked at. I had one pizza and a limp-looking salad. LSB was back at work, and couldn't be summoned from his desk, because he had a shite holiday allocation back then. There was thus no one to conduct an emergency run to M&S. As I produced this paltry fare, my children, who were small and usually sparrow-like in their eating habits, swiftly demolished most of the pizza. I had to root about in the fridge until I found a tub of soup|: I still wince at the memory.
Later, I relayed the debacle to The Mothership, who was horrified at the scant offerings I had dished up to her relatives. She's a country woman at heart, and if you don't need hauled from your chair after a meal then she doesn't consider it a job well done.
My tips then for stress free entertaining include avoiding doing so if your head feels like a bag of chisels. Secondly, the slow cooker is your friend. This recipe for beef and ginger is guaranteed to please and it's best made in the morning, so as your guests arrive they are greeted by the scent of aromatic Asian fare that tastes as though you put a lot more work into it then you actually did. Serve it with perfectly cooked rice (2 cups of water to one cup of well-rinsed basmati) and dinner is served. I would dish this up with a fine bottle of Bardolino, a light Italian red which doesn't thwack you in the head like a Malbec and is thus the perfect accompaniment to what is basically a meat stew. The Vineyard on Ormeau has some gorgeous varieties. Serve this up generously to your guests and coupled with the pale glow of candle light, no one will notice (nor care) about the cluttered corners and filthy windows you never got to.
Happy Easter all!