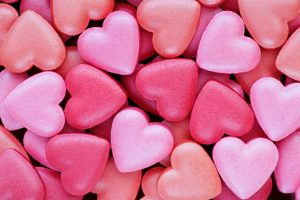 Wait til you hear what I was chatting about with Frank Mitchell on Monday. A new love tonic, that you take as a pill or squirt up your nose to put a bit of 'va va voom' back into your marriage, or fan the flames of a flagging romance. I tried explaining it to LSB. 'Do you mean Viagra?,' said he, but I explained that this isn't medication for malfunctioning penises, rather for malfunctioning relationships. 'Hopefully we're all right then,' he said, still looking rather wary.
It all sounds a bit like a dystopian fantasy if you ask me, but apparently some struggling couples in the US have already undergone trials to see if it can help them, so it could be available here soon too.
I'm skeptical, of course. Surely if one needs to self-medicate in order to feel kindly disposed towards their partner, then they might need more than a pill? Big pharma would have us believe otherwise. They suggest that we already take a cocktail of chemicals for a myriad of issues- be that the contraceptive pill, HRT or anti-depressants. They are purporting that within a few years 'love potions' will be available over the counter to put a bit of fizz back into relationships which have gone a bit stale: it's being likened to a glass of Prosecco on date night- to inject a wee bit of oomph.
I would posit however, that there could be more traditional methods to keep a partnership alive, without having to visit your GP for a miracle cure. Long-term relationships take proper graft to keep them going, which is just a rather depressing fact. One could argue though, that anything worth having is worth chipping away at. Relationships need compassion, kindness and a hell of a lot of compromise, especially if there's children involved.  Sometimes, you have to bite your tongue, take yourself out for a long walk or meet a friend. I don't think a pill is going to negate the rage which sticks in your throat when the frigger leaves a wet towel and a pair of sweaty jocks on the bed.
The journalist Judith Woods argues that 21st century problems require 21st century solutions. She reckons that if you need something to get you in the mood for some Friday night nookie then what's the harm? Now you're going to think I've gone all conspiracy theorist on you, but is this not another way to anaesthetise ourselves against the trials of modern life? Think about it: childcare costs, soaring energy bills, petrol bills. We're not automatons- it's not easy to come home, switch off and bring your 'A Game' into the bedroom when you feel like a pile of reheated shite. Having said that, if I thought LSB had to  spray some oxytocin up his nostrils before he fancied getting jiggy with me I'd be affronted.
So I have a suggestion. What you need instead is a good night out. It had been a while folks, since LSB and myself had the craic and danced like we were in our twenties again. But last week, it actually happened, when one of our favourite bands The National played Botanic Gardens last Tuesday. We booked a babysitter, ditched the car, (mid-week be- damned!), and off we hopped.
For nostalgia's sake we stopped for a drink in The Jeggy Nettle as when we met we were both living in rentals in Stranmillis. Almost all of our dates were in Zinc, as it was then, and he'd have a Guinness and I'd have red wine, so it was only right that we stop there to reminisce. It was absolutely rammed, and when I asked the server what the wine was like she said they had a terrible selection but the sauvignon was better than the Pinot Grigio. It wasn't great. And it was warm. But it  didn't matter. What mattered was that we were out, together, and at a gig. The National came on stage a few minutes after we arrived in Botanic. We high-five friends we hadn't seen in ages, beetled our way to the front and sipped pints, singing along to BloodBuzz Ohio and Fake Empire. It was magic.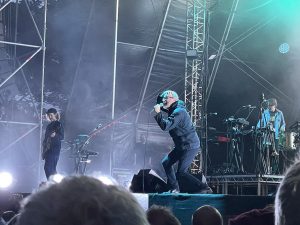 We don't need love pills; we just need conversations which aren't about transfer tests, and who's taking the kids to gymnastics and football. We need to remind ourselves why we got together in the first place and feel that buzz again.
I think the pills are a short-term fix for a long-term problem which if one were continue to neglect, might only grow worse. So forget the chemicals and get the f**k out of the house. That's my take away from this.