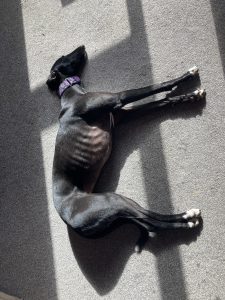 Do you ever harbour notions which have little, if any, basis in reality? I do, all the time, and this morning was no exception. I had a rare day off work, and so, with uncharacteristic enthusiasm, I walked the Small Child down to school, dog in tow. How fine it will be, I said to myself, to breathe in the fresh dew-laden air and soak up the autumnal sunshine.
It didn't take long for the dog to disabuse me of this romantic notion. Just at the school gates, (a mere 2042 steps from my door, according to the Fitbit,) she took a massive dump. A 'double bagger' it was, which was some fun clearing up, while the parents all filed past.  The Child scuttled on in, because we were, inevitably, running late as well.  Big bag of shite hand, on I went, my initial glee somewhat tempered. The dog was in one of her sniffy moods, stopping to root about under the hedgerows, an activity she finds tantalising indeed. It was thus a stop-starty sort of a dander, preventing me from striding purposefully forth.
Not far from the wee primary school in Rosetta, nature called again. The second deposit was smaller, and happily so, for I discovered I'd used up my bags. It is exceptionally bad craic to leave a poo anywhere, but near a school is unforgiveable in my book. I did, however have a bag of plastic wrapping in my rucksack, destined for the recycling bin in the Co-op. I thus repurposed a packet from a bag of Sainsbury's Taste the Difference Anya Potatoes, which, whilst not ideal, did a decent enough job.
On we go.  At this point I met Matthew O'Toole, our local SDLP MLA.
'Hello!' I say, with gusto. Matthew makes the rookie mistake of asking how I am and I thus regale him with tales of dog defecation and plastic recycling. He does his best to seem interested, sympathetic even, but the voices in his head must be screaming 'MAKE IT STOP, PLEASE GOD, I BEG YOU.' That's the problem with being a politician.  The world and his wife feel they have the right to accost you and go over any auld nonsense. At least I have encountered a bin between me and Matthew, so I'm not clutching a bag from a packet of potatoes turned dog-shite receptacle.
There's a lesson here. To avoid this sort of caper, which is never edifying, (but most definitely not what you need of a Monday morning,) DO NOT feed your dog Sunday leftovers of roast potatoes and pieces of beef brisket. And especially not if the grandparents have already called in and fed her excessive doggy biscuits and 'Jumbones.' And, should you meet anyone, just let them carry on.
Anyway, by 10.14 I am back at the kitchen table, coffee poured and six thousand, four hundred and fifty-three steps under my belt. Aside from the cat pawing at the laptop and mewing pitifully for a second breakfast, the situation is much improved. Let's hope it stays that way.