You know my big middle-class moan about cooking the dinner? Well, it was the absolute BESTEST thing ever because since, I've been inundated with kindly folk sending me recipes, tips, and even FOOD. Oh yes, how my heart leapt when a friend left a tub of fresh tagliatelle with asparagus and lardons on my windowsill. It was generously doused in olive oil and black pepper and there wasn't A WORD out of me the following lunchtime as I shoved it in my face.
'I can see you're enjoying that,' said LSB, struggling to keep his ham baguette down as I shovelled it in, mouthful after glorious mouthful. My pal Stephen found the recipe on the back of a pasta packet and I can enquire further and share it, if you wish.
In the spirit of magnanimity, when it comes to food sharing, I sent another neighbour a portion of 'Campfire Stew,' a recipe a uni-friend sent me with the guarantee 'your kids will LOVE it.'
Did they love it? No. Did they even like it? No. Did they at least eat it in an effort to please? I'll let you answer that. LSB picked at it, miserably. 'Are there baked beans in this?' he asked.
I nodded.  'I thought the other ingredients might disguise the taste,' I said, a tone of desperation creeping in. He picked out the meat, but said he could still detect, and I quote, 'more than a hint of synthetic tomato sauce and an unpleasant orange-ness.'
'That what you get for marrying a Protestant,' I snarled.
So, I ate it for dinner, for the following lunch and then for dinner again. I grated cheese on top and served it with rice vermicelli and it was hearty and fabulous. But then my innards took umbrage at all the beans, which is why I sent it down the road.  My pal said it perked up her lunchtime no end.
We also did, and I recommend it heartily, a dumpling making course with The Edible Flower. I'll be honest with you- my dough bore little resemblance to theirs, but it was worth it alone just to get cracking with loads of garlic and ginger and fresh coriander. I have missed FLAVOUR, I thought to myself, as I fried up mushrooms with scallions in butter. I made two different fillings, a meat and a veggie one, both of which left enough for me to cook up for lunch the next day. The wee ones actually ate the meat, so that was a bonus too.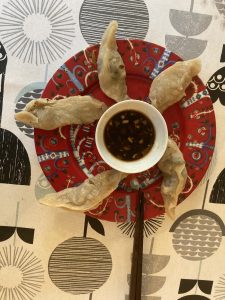 Then another friend, (and I will stop after this, I promise,) but said she was tired eating on her own at lunch and invited me to hers. We sat in her sun filed kitchen and she handed me a bowl with a lentil, feta, sundried tomato and mint salad. That was it, four ingredients and it was a revelation. Really, I ought to have taken a picture, but I was far too busy eating.
It all made me think though- food is such an absolutely joyous thing and yet it ends up, for women anyway, a source of constant frustration. When I go to the supermarket, I feel shackled by what everyone else refuses to eat, and with a world-weary sigh I go back to the old staples. But every so often, a wee invite or a tub left at your front door, it's enough to boost the spirit again no end.  And of course, restaurants are open again, so HURRAH.