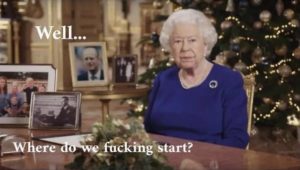 Everyone I'm just, like, speechless. I mean, WHAT THE F**K? All we've been hearing is BS about saving Christmas and while we CERTAINLY were n't rushing to see my parents who are in their seventies, we were hoping for a wee bit of frivolity. And now everything's going to be closed from Boxing Day? All I can say is that it's as well LSB and I get on because otherwise wouldn't these holidays be a total shit show? On Saturday I spent two hours in Riah having my highlights done. And for what? To match my pyjamas while I arse about the house? Well, I suppose hermits need to look alright too.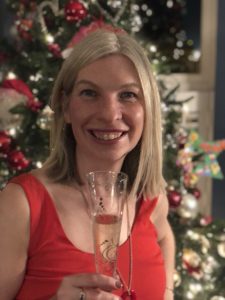 But if I'm honest, I have found my introverted side during all of this. I've become partial to my sofa of an evening and in some ways it's a relief not to feel I have to attend countless nights out and endure the inevitable hangover after. But do you know what I miss most? It's the little soirees. One random Friday last year my neighbour Alison (who spends a disproportionate amount of time minding my children) had 3 of us round. She served us melon with blackberry coulis she'd made herself from brambles at the bottom of the street. This was followed with bowls piled high with unctuous carbonara. According to Felicity Cloake in the Guardian, Italians rely solely on eggs for this dish, but I challenge them not to try my friend's version: they'll soon be reaching for the double cream and slinging it in with abandon. We drank bubbly and red wine and chowed down Lindt chocolate balls for dessert. I'm not sure I remember getting home. I remember thinking though, that even I couldn't make the night itself, it was lovely to know that it was there, hovering at the end of week, and that I had been invited in the first place. Sometimes it's just knowing there is a break from the quotidian in the near future. I wonder if I'll ever take it for granted again?
Now our meet-ups are weather dependent and fraught with anxiety. But ultimately- I'm ok. I have LSB and the wee ones (even if they are total melters). But what if I was stuck in dismal old student digs in London, unable to get home because of new travel restrictions? I mean, how absolutely shite. Imagine if you had been at university for the first time and spent most of it cooped up, being all sensible so you had the chance to come home and see your folks for the festive season. And then, boom, you're stranded. I'd have been raging.
I was one of those ones on the train home to Bangor after my 10am politics lecture in the QFT on a Friday. Halls, for me, were miserable. Minus craic. I know I was a bit odd, but in my own halls at Queen's Elms no one had the slightest interest in hanging out with me so I headed over to another shite tower block where they were nicer and embraced me, even with all my Bangorian eccentricities. Things got better then, but I still wanted out of there by the weekend.
I just really feel for all those wee ones. It's a scary time. I try not to think too much the state the world is in- ruminating too much upon it could do for you. Young people maybe don't have that foresight. They don't have small children being annoying and dogs to walk and cats requiring entertainment. (My cats actually do seem to need entertaining. LSB is investigating cats' television to see if it will make them f**k off and leave him alone when he's trying to work.)
I'd just be interested in knowing what universities have planned to bolster morale. Surely they ought to have some strategy, having  suggested that students go over in the first place and pay for accommodation and then do most of their classes via Zoom and have no fun to themselves. I realise that this situation is new for everyone: governments haven't had to deal with a pandemic with a new virus in living memory and the Tories have been too preoccupied in ensuring a no-deal Brexit actually occurs (as if today's dry run of the Dover-Calais closure wouldn't focus minds). But there has been such arrogance, such mis-management and pure stupidity. If the people who have been entrusted to run the county couldn't have handled this whole fiasco better, then it's a sorry old state of affairs.
Rant over. I'm away to the sofa to get my nightly fix of Gilmore Girls, kids on one side and the dog on the other.  Wee dose of wholesome (ish) all- American small town shenanigans is just what I need right now.