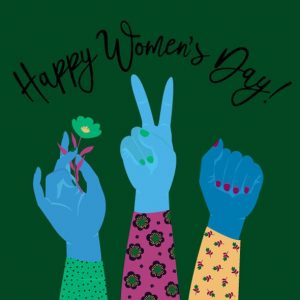 Since it's International Women's Day I'm in the mood for chatting about periods. Aren't they a right pain in the arse? I've been on about them before, but as a topic I don't feel that they get enough air time. Presently, mine are being very annoying, arriving at the most inopportune moments. Take November, for example. We were headed down to Dublin to see Liam Gallagher, and as I've mentioned before, I think he's a bit of a gobshite so I wasn't overly looking forward to the gig. I was, however, excited about a night away minus  off-spring, and in a happy turn of events, Himself had actually downplayed The Spencer which turned out to be a plush establishment with Egyptian cotton sheets and mood lighting and velvet throws, just the thing for an unencumbered pair.  How jolly, thought I. Well, I wasn't through the door til the period came on, with an almighty splosh and a whoosh, all over the shiny white bathroom tiles. How I wish I was exaggerating.  That fairly put paid to any shenanigans of an amorous nature, I can tell you.
Maybe it's because I'm getting older, but they are becoming more irregular, heavier and as a result are having a desperate impact on my moods, as LSB would testify in a heartbeat. As soon as he hears pots and pans being clattered about in the kitchen; detects my inability to recollect the whereabouts of my purse, keys or mobile phone, or witnesses my uncharacteristic desire to clean, he knows the bastard is on its way.
The Mothership loves a good rant and rave about them too, ever since she visited the South of France in the 1960s.  All excited she was, about a swim in the warm and enticing Mediterranean, unlike the freezing Atlantic in Portstewart to which she was used. One solitary swim she got until the frigger arrived and spoilt her holiday. She was very young and innocent and hadn't a notion about tampons, (feck they may not even have been invented back then) so she sat miserably by the water's edge, watching as her friends frolicked about in the waves. I don't think she's over it yet, truth be told.
(Folks I'm telling you, the phone call I'm going to be taking later will be worth listening to, saying the like of that.)
But that's what they do, periods. Spoil your happiness. Wreck your sex-life. Give you cramps and nausea. Oh, and now of course, we discover, they contribute hugely to plastic pollution. 11,000 sanitary products is what the average woman uses during her lifetime. That's a wild statistic altogether, isn't it? Imagine being a wee turtle, going about your way merrily, fins a-flapping, when along come a shoal of Always Ultra. Must be a powerful shock to the system altogether.
And the thing is, for anyone of my generation, having any other means of dealing with them is not immediately apparent. Until my 39thyear, I'd never used anything other than a pad or a tampon. Then a couple of my friends mentioned using a moon cup. It took me a while to get my head round this, and it took me even longer trying to figure out how to get them in and out. It's possible that the husband, at one point, may even have been enlisted to aid the removal of such an item, as I became familiar with the extrication process. I recall that on this, the most difficult of occasions, I tried to text friends from the bathroom for advice, but they just sent emojis of fishing rods and pairs of pliars. 35 minutes I recall I spent, trying to get the fecker out.
Happily, there was another solution which I found infinitely easier. My friend Kirsty is the founder of Shared Threads, an organisation which makes reusable pads from recycled cotton. Kirsty sends most of her products out to India, and has initiated visits to schools where she goes out, armed with her trusty supplies to educate young girls on how to manage their periods. On these trips she has also taken supplies into women's prisons to deliver her bags of brightly coloured pads to help women without any sanitary items at all.
Today I went along to an open day at her studio in Portview Trade Centre on the Newtownards Road in Belfast. I'm familiar with this area for the wrong reasons: the congestion, the murals of paramilitary groups, and the towering bonfires which spring up mid-June. But under the sunflower yellow of Goliath, is Kirsty's studio with a Root & Branch Coffee Shop tucked snuggly underneath. Bright sunshine lit the whitewashed walls and the fresh smell of coffee greeted us as we wandered in.
All around were women and children, cutting cloth and sewing pads from bright oddments of material. There was chat and biscuits and small boys playing with Lego and Rubix cubes. I brought my friend Alison, who swiftly took a pew, carefully snipping out patterns and chatting to the lady beside her. It was ever so convivial.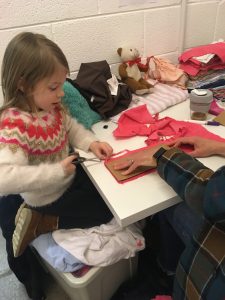 My kids quickly got in on the action, sketching patterns and cutting out and popping the odds and ends into bins.
God, it was gorgeous. As you know, I'm a miserable fecker. I love nothing more than a good auld bitch and a complain. But I love community more. It pleases me no end to see people coming together to share what ever skills they have in pursuit of a common good, for women who have a far more shite time than the rest of us. So if you have a moment, check out Shared Threads online and see what other projects Kirsty has coming up.
As for my periods, I've managed to make mine almost plastic free, between Kirsty's pads and the occasional use of Yoni sanitary wear, I've given up on Always Ultra altogether. It's a small change, but ultimately, I feel, a significant one. And by talking about this, it's also a  brilliant way to break down barriers, because we stop making them something that we should ever feel embarrassed or awkward about. I'm starting more and more, at the age of 40, to appreciate my body, and what its been through, and what its created. If I do have a fecker of a period, and need to curl up in the sofa with a vat of tea and a bag of chocolate digestives while watching repeats of Sex and the City, well I'll take that, thank you very much, and frankly, be quite glad of the excuse.